If you're in the mood for a burger, Beaumont has a plethora of options to fill your craving. But if you want the whole burger shebang, then it's time to head to Willy Burger. From beginning to end, Willy Burger pays attention to every detail of your dining experience, and it shows. For someone like myself, who only eats a burger every once in a while, that's important. Because by golly, that burger better be worth it.
The folks at Willy Burger have taken the concept of a classic American burger in the traditional diner style and added some funky southeast Texas personality. The menu is relatively simple, the building is small, but everything is done with passion and love. With custom lettering and design elements by local artist Summer Lydick inside and out, everywhere you look, something fun catches your eye.
From the moment you pull up in the parking lot, you know it's gonna be a good time. Walk in the front door, and you are welcomed by delicious smells and the sounds coming from the open kitchen. The fresh color scheme of bright orange and teal blue, accented with plenty of crisp white and touches of clean silver metal feels simultaneously vintage and modern.


Now comes the hard part - deciding what to put in your mouth, because it's all good. If you're a burger enthusiast, you can be sure that whichever burger you get will be super fresh, since they grind their certified Angus chuck every single day in the kitchen. You can even watch them through a window. Choose from something as simple as the basic burger on a toasted bun with lettuce tomato and onion, to the Booty Burger, with Creole mustard, cheddar cheese and a handmade fried boudain patty on top of the burger patty. 
To get the full experience, make sure you order some sides. It's a tough call between the handmade onion rings and the thin-cut French fries, so you should maybe order both. Unless you're in the mood for some waffle-cut sweet potato fries. And for dessert, don't pass up a chocolate malt. Or a funnel cake. Or, maybe, a funnel cake dipped in the malt. Did I mention, you might have leftovers?
For those looking for a healthy alternative to a burger, Willy Burger offers a delicious grilled chicken sandwich or the grilled ahi tuna sandwich, which comes with an Asian slaw that's made fresh daily. Non-meat eaters or those with dietary restrictions, will find the grilled portobello mushroom burger and gluten free buns on the menu.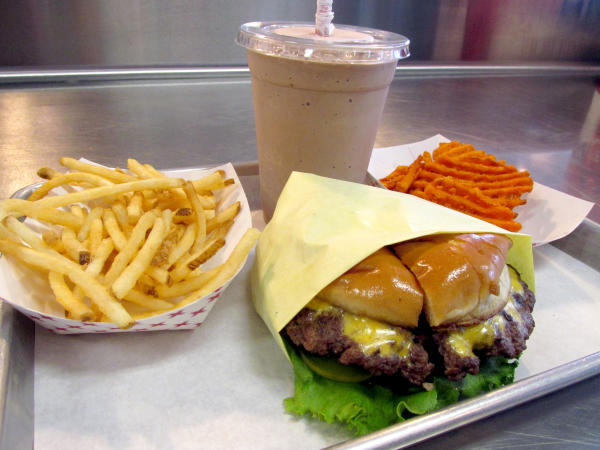 Once you've ordered your feast, choose your seating arrangements, and they will call you when it's ready. To really feel like I'm back in the 1950's, my favorite spot to sit is the bar in front of the kitchen area. The crisp white uniforms of the friendly staff and their cute white paper hats only emphasize this sensation. There are also plenty of booths, as well as a small outdoor seating area.
If you're bringing the kids, they will probably vote for sitting in the authentic Airstream trailer, which you enter through the doorway lined with pennies. When you pick up your order on an aluminum tray, be prepared for delicious overload. It's best not to completely remove your burger from the handy yellow paper wrapping, because it's probably going to be juicy and messy.
Willy Burger
5355 Calder Avenue
Beaumont, Texas
(409) 892-3400

Monday - Sunday, 11:00 a.m. - 9:00 p.m.