When you want a good meal but don't want to spend a lot, there are more than enough local dining spots that can fit the bill. Some are lunch only; some extend into the wee hours of the morning. Peruse this list for the best places with a variety of options under $10 (before tax). Your craving for Southeast Texas flavor doesn't have to cost a pretty penny.
1) Tacos La Bamba
2005 Calder Ave.
(409) 838 - 6222
Monday - Sunday, 8:00 am - 9:00 pm
This Mexican street-style eatery is a neighborhood obsession for good reason. With inviting, cheery interior, friendly staff and authentic flavor, the low prices are just a plus. Try the 'super' tacos, topped with queso fresco, grilled onions and sliced avocado, for $1.99 each. Don't pass up the house salsas - the green is fresh and mild, the dark red is smoky and rich and the orange is fiery and addictive. And ask for the guacamole. It will be added to the menu soon, but it's possibly the best in town.
Delectably Inexpensive: The platos are a great value - a huge plate of food, garnished with a grilled green onion for just $7.25. Try the buttery barbacoa - served with rice, beans and tortillas. Be authentic with corn.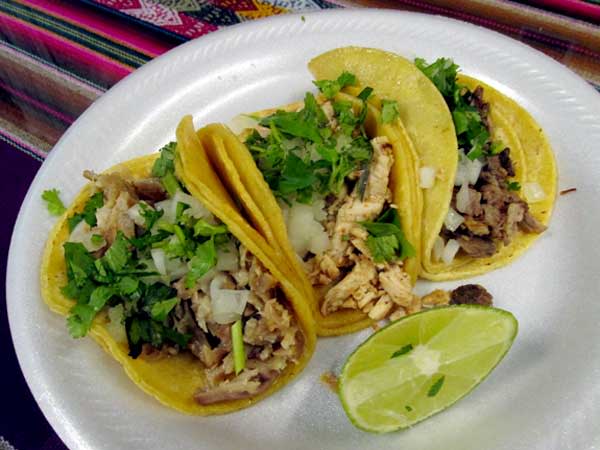 2) Beaumont Fried Chicken, Pizza & Grill
2305 Calder
(409) 813 - 1200
Monday - Saturday, 10:00 am - 9:00 pm
Sometimes you just crave some legit fast food. Next time, instead of the drive-thru, opt for this quaint walk-up gem on Calder that now features an adorable outside eating area. Everything is made fresh, including pizzas and a variety of deli sandwiches with fries. Try the BBQ turkey - deli turkey grilled with BBQ sauce, served on a grilled bun with mayo and jalapeno peppers. For some of the best fried chicken in town, call ahead, as they make it fresh. And on Fridays, don't miss Susan's Indian food meal with fresh naan bread, for just $9.99.
Delectably Inexpensive: The everyday special is your choice of a crispy chicken sandwich, cheeseburger or fish sandwich with fries and a drink for just $4.99.
3) Krazy Kajun Seafood
3015 N. Dowlen Road, Ste. 230
(409) 860 - 1844
Monday - Thursday, 11:00 am - 9:00 pm. Friday & Saturday, 10:30 - am - 9:30 pm.
Sunday, 11:00 am - 7:00 pm.
In a grocery store shopping center, this gem is a great place for seafood lovers. While there are plenty of places that feature fried seafood, this is one of the best for its consistent freshness, value and large portions. If you're looking for a healthier option, their grilled or blackened fish (try the snapper or tuna) with the delicious grilled veggie combo is mouth-watering. Look for the house-made sauces (ginger and mustard) on the sidebar to top your fried rice.
Delectably Inexpensive: Their Vietnamese-inspired poboy is noteworthy. A slightly different variation on the typical Southeast Texas poboy, it is topped with shredded carrots and jalapenos. Try the oyster po-boy for $6.99.
4) Chuck's Sandwich Shop
493 Pearl St
(409) 832 - 7072
Monday - Friday, 6:00 am - 2:00 pm
This downtown staple offers a variety of menu options including burgers, hot and cold sandwiches, bakes potatoes, salads and nachos. Everything on their menu is $7.25 and under (with the exception of a whole chocolate sheet cake for $22 - we won't judge you). 
Delectably Inexpensive: People rave about the baked potatoes, which you can get loaded with chicken, roast beef or seasoned beef for just $7.25.
5) Rao's Bakery
2596 Calder
(409) 832 - 4342
Monday - Friday, 6:00 am - 6:00 pm. Saturday, 6:00 am - 2:00 pm.
For folks who need a grab and go option, while staying on the relatively healthy end of the spectrum, Rao's Bakery is a top option. Grab a sandwich from the cooler and if you have a couple extra minutes, follow their recommendation to grill it. Their unique take on egg salad (with green olives) as well as the Sicilian tuna with black olives, green onions, olive oil and lemon juice are particularly memorable.
Delectably Inexpensive: The lunch combo of a half sandwich with soup and chips is just $7.25. Opt for the egg and olive salad with a cup of tomato soup, then add a precious little cake ball that brings your total to $9.14.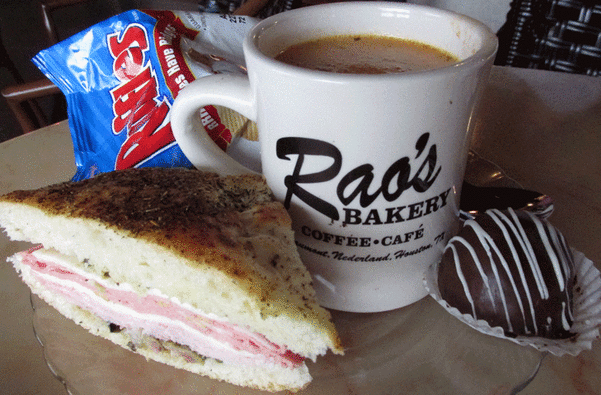 6) Rosie's Soul Food
2306 Hazel Ave.
(409) 356-7884
Monday - Friday, 11:00 am - 8:00 pm. Saturday & Sunday, 11:00 am - 6:00 pm.
This Old Town casual eatery uses family recipes to satisfy the locals' cravings for Southern comfort food. Steam table entrees include everything from smothered pork chops to ox tails, a mouth-watering meatloaf, fried chicken and more. A meal includes one meat, two sides and cornbread, with the highest price point being $8.95. The sides are notable all on their own, and are priced at $1.75. The yams are quite killer, in the best way. Unless you're starving, be prepared to have leftovers. Note: Cash only.
Delectably Inexpensive: The meatloaf, served with yams and okra for $6.95. Add Rosie's famous banana pudding for dessert and your total comes to $8.94.
7) Katharine & Co.
1495 Calder
(409) 833-9919
Monday - Friday, 11:00 am - 2:00 pm. First Thursdays of the month, 5:30 - 9:00 pm.
Since Katharine & Co. has a reputation for impeccable flavor and consistent freshness, it may come as a surprise to many that most of the prices on the lunch menu are below the $10 mark. (The monthly First Thursday dinner menu is a bit out of that range, although the lunch menu is also available at that time.) Whether you go for a flavorful salad (like the mango avocado) or their famous fish tacos (at $4.00 each), you can be sure that both your tummy and your palate will be happy at the end.
Delectably Inexpensive: Try the sandwich/side combination of ½ a pecan-crusted chicken sandwich on hearty wheat, with the marinated green beans and artichoke hearts plus a cup of amazing tomato soup for a mere $8.00.
8) Abbie's Imports
5335 Fannett Rd.
(409) 842 - 2895
Monday - Friday, 10:00 am - 6:00 pm. Saturday, 10:00 am - 2:00 pm.
One of the few Mediterranean options in Southeast Texas, Abbie's is a deli and quant neighborhood grocery featuring hard-to-find import items. There is a small, bright seating area where you can sip hot tea as you wait for the friendly staff to bring your meal. The tabouli is delicious enough to eat a whole bowl of, and there are plenty of olive and cheeses to taste until you're stuffed. Sandwiches, pizzas and salads are all priced well below $10.

Delectably Inexpensive: The Greek gyro with beef/lamb meat, onions, pickles and feta is only $6.00.
9) Logon Café and Pub
3805 Calder Ave.
(409) 832 - 1529
Monday - Thursday, 10:00 am - 11:00 pm. Friday & Saturday, 10:00 am - 12:30 am.
This music venue/pub/internet café is a favorite of locals and Southeast Texas newbies alike. While their food is not fancy, it's satisfying. They will often feature from-scratch specialties, like a chili made with brisket ground in-house and simmered with Bombshell Blonde beer. Their addictive spinach artichoke dip is made fresh from-scratch daily, and their baked potatoes are always giant and tender.
Delectably Inexpensive: The BLT on wheat toast is simple done right, for $3.99. Add fries for $1.99.
10) Chaba Thai Cuisine
4340 E. Lucas Dr.
(409) 899 - 4500
Sunday - Saturday 11:00 am - 9 pm
This is one of the best places in town for exotic flavors. The original location on Lucas is intimate, with a more streamlined menu and is also BYOB. The vast majority of appetizers and entrees, during lunch and dinner fall below the $10 mark. If you're a fan of exciting flavors and textures, this place is not to be missed.
Delectably Inexpensive: The pad kee mao, a noodle dish with basil sauce, shrimp and chicken is hugely popular. The addictive flavor is unforgettable and the portions are gigantic. Lunch is $7.50, dinner is $9.95.