SOUTHEAST TEXAS FALL FARMS
Beau-tanicals
2724 N China Road, Beaumont
What's in Season: Storefront on a family farm that offers all natural & homemade health/beauty products. Special offerings to pet the baby farm animals.
When It's Open: A frequent vendor at the Beaumont Farmers Market from 8-11am, then at the storefront from 12-4pm on Saturdays. Like/follow their Facebook page for schedule updates, changes, or special events.
Tips/Tricks:  When you see their homemade goat milk fudge or caramels out, make sure to purchase right away. As a local favorite, those go FAST! While it is lovely seeing them at the farmers market (especially with the complimentary coffee), the little farm store is an instant happy place and a must visit…an adorable and aromatic space, pleasing to the senses. Plus, you get to mingle with the sweetest baby goats!

Chosen Weeds Farm
Bridge City
What's in Season: Well-known for the popular "Junior Farmer" classes that include a tour of the homestead, hands-on experiences with gardening and animal care, craft time, product samples, and more. Be sure to subscribe for notifications to register. Chosen Weeds Farm also offers raw goat milk soaps, chemical free veggies, eggs, and chicks & ducklings.
When It's Open: By appointment only. Like/follow Facebook page for the class events. Registration is required for all events. Find Chosen Weeds back at the Bridge City Farmer's Market for the 2024 season.
Tips/Tricks: Check out www.thechosenweeds.com and subscribe to stay in the know about free open farm days, giveaways, classes, and more. This is a working farm, so make sure to dress appropriately.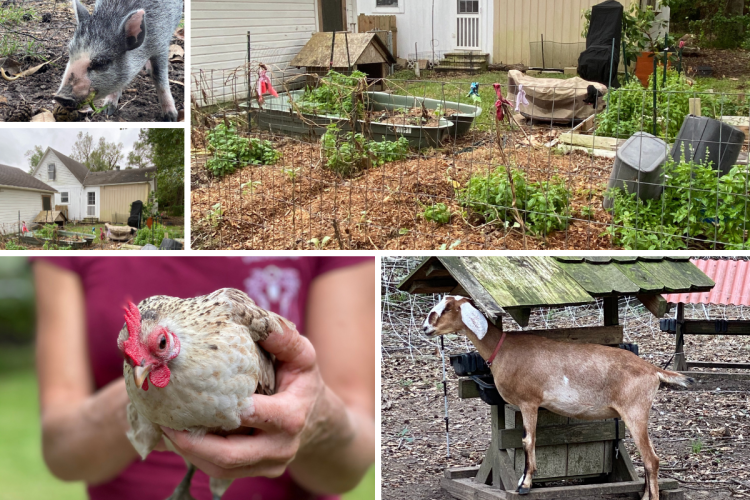 Donna's Farm
11073 Kolemay Drive, Fannett
What's in Season: "A Southeast Texas Farm using sustainable and biodynamic growing practices to grow nutrient dense produce and fresh cut flowers." Offers a variety of produce, fresh & dried herbs, fresh cut flower bouquets, free-range eggs, and the list goes on! Seasonal sunflower pictures available also. Donna's Farm also partners with local non-profit gardens, The Giving Field on Liberty Street and Mid County Victory Garden, to provide monthly produce boxes where a portion of sales goes back to the mission of providing fresh produce to nursing homes and feeding the hungry in our area. A local farm who is always quick to support and partner with other locals in order to assist in meeting the needs of the community!
When It's Open: On-site stand is open Thursdays & Fridays from 2-6pm and Saturdays 1-4pm. Also, a frequent vendor at the Beaumont Farmers Market from 8am-11pm on Saturdays. Donna's Farm will be closed for the month of August, but will reopen the weekend after Labor Day. Farm tours are by appointment only.
Tips/Tricks: Family friendly. No pets allowed, except for service animals please. $2 per person for farm tours. Enjoy chickens and dogs that help herd the animals roaming freely (welcome to pet if standing nearby).
Hammered Honey Farms & Mead
Orangefield
What's in Season: A small, veteran owned, family run, honey farm and meadery that sells raw wildflower honey local to Southeast Texas, and focuses on custom honeywines and melomel meads. Working on licensing and expansions to offer a tasting room!
When It's Open: Contact (409) 313-2001 or visit their Facebook page to schedule an appointment for special tastings or a tour of the facilities. Please like/follow on social media to stay up to date.
Tips/Tricks:  The farm donates a percentage of honey sales to charities that assist families of fallen U.S. warriors.
Moore Honey Farm
9767 Bevil Boulevard, Kountze
What's in Season: Local honey from Texas beekeepers. Local stores throughout SETX stock their honey and can be purchased year-round online through their website. These products make excellent, delicious, and unique gifts.
When It's Open: Please like/follow their Facebook page to stay up to date when open tour days are scheduled.

Third Day Farm And Ranch
373 Cr 092, Jasper
What's in Season: Pumpkin patch and hay maze during the fall. Many other seasonal products are available for purchase, including local honey, jams, produce, and more. What a variety you can find at this farm, just a little over an hour away!
When It's Open: Monday-Friday: 9AM-1PM, Saturday: 9AM-4PM, closed Sundays. Follow their Facebook Page for info and updates, including weather closures. May also call Dan at 409-291-1456 in case of inclement weather, schedule changes, etc. They are happy to answer questions, schedule weekday field trips, and more. Tips/Tricks:  Photo-ops available and portable restrooms on-site. Payments require cash or check only.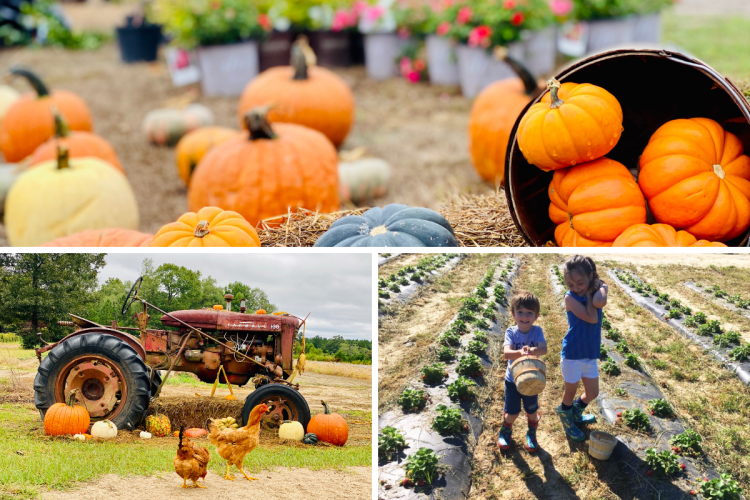 Local Farmers Markets, Community Gardens, & More
For a list of all locally sourced Southeast Texas Farmers Markets, visit 409 Family to find one near you!