Kids on spring break? Or just want to reward them with a fun day or weekend out on the town? Here are the must-hit stops for all the family-friendly attractions in town.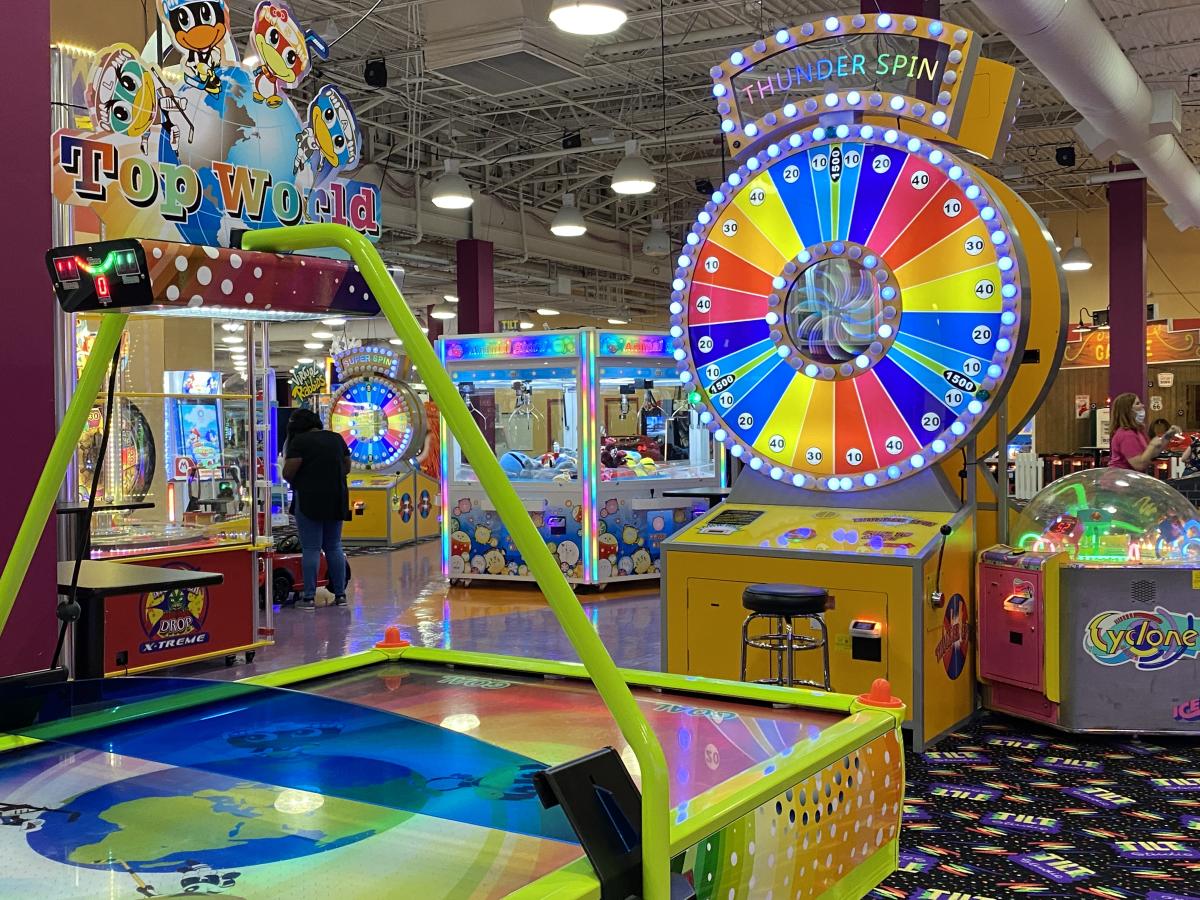 The Tilt Studio
A complete hit with parents and children alike, we had a blast at Tilt when the kids found games and characters they know and love (cats & Transformers), plus this mom got to show off her mad skills with the "retro" games that are fun to play no matter how old you are.
Not only is it a great arcade, but there are attractions too: bumper cars, rides, laser tag, putt putt, mini bowling, and more! Plus, the literal icing on the cake, or in this case, cookie...Great American Cookie Co. is across the way.
Super convenient bonuses for parents:
Play card kiosks make it easy to purchase, check balances, and add points. All are touchscreen and DIY so there's no need to have unnecessary contact with staff. Just make sure to wash hands or bring hand sanitizer after touching the machines.
They have service buttons at each of the attractions, so you don't have to hunt down staff in this huge space. So helpful! The one lady we dealt with was attentive and sweet.
They are great about advertising deals on their Facebook page, and you can sign up for text alerts for fun on the cheap (especially with multiple kids).
There are restrooms inside so you don't have to hunt through the mall to find one. It was quick to wash hands before and after. We went around 11:30am on a weekday and had plenty of socially distanced room to roam. The environment was so clean and so spacious!
Centrally located in Parkdale Mall, there are plenty of other places to add to this adventure: Build-A-Bear Workshop, 2nd & Charles, the food court which has a Chick-fil-a, and more.

Jumping World
We spent two hours at Jumping World Trampoline Park to see if we could find any sort of limit to these three little monkeys' endless energy. I think we were getting close to the brink, but, they had a fantastic time.
My "parent point of view":
LOVE the toddler area sectioned off in the corner. I could sit in the dining area to watch the two-year-old while keeping an eye on the bigger kids around the corner, which is super helpful.
Make sure to visit Jumping World's website for deals and discount days as they often have specials to save extra money.
They allow you to jump in regular socks, so there's no need to purchase them. I did bring my kids water bottles and snacks, which was not an issue. There are water fountains there too and concessions sometimes.

Spindletop-Gladys City Boomtown
Who can refuse an invitation for a picnic and playing in an open field while waiting to view the famous Spindletop Gusher re-enactment?! Not us! (Especially when it's all FREE.)
While there were technical difficulties with the gusher due to the winter storm, our fun was not spoiled. We decided to go on a self-guided tour back in time through "Boomtown," which was the best $9 I have spent in a long time! The kids browsed the gift shop inside and each were handed a free scavenger hunt checklist with pictures and facts to go with each item. Always a win when learning is fun!
Parent perspective:
After checking in/paying, you have the opportunity to watch a video about the whole history of Boomtown, and then proceed on to the self-guided tour. Because we had toddlers with us, we skipped the video. I appreciate the flexibility and age appropriateness to move at your own pace.
We were seriously impressed with all the details of the scavenger hunt. They did not hand the same thing to each kid, so different items had to be found which they could work together on and compare with their friends.
The staff is so friendly and engaging! We loved the gift shop with unique local items and there were restaurants on-site.
Spending under $10 for a day of fun for four people is pretty incredible!
We are planned to go back and catch the gusher as soon as they get it repaired and have heard rumors of an "escape room" activity that we are pumped to try out.

Max Bowl
We headed out to Mid County for some laser tag with Dad who met us at Max Bowl on his way home from work. It was a fun family meetup but sadly their laser tag guns were on the fritz, so that currently wasn't available but the big kids enjoyed a game of bowling...my husband and I enjoyed (and had lots of laughs) watching them bowl and chasing the toddler to catch her from racing down the lanes. Thank goodness for all the bright, shining, distracting lights of the arcade!
Parent perspective:
For a budget-friendly outing, go on $2 Tuesdays & Wednesdays! Tuesdays, they open at 4 pm and Wednesdays at 11 am.
If you are on Instagram, follow them for a DM with an additional discount (it does have an expiration, so time it right before you plan to visit)
Staff are on top of sanitizing methods, i.e., carrying clean balls to your lane, taking them back to sanitize when you finish, and spacing out lanes. As a parent of little ones who are not always great about personal space and cleanliness, I especially appreciated the extra care.