When the holidays come around, we gather, feast, and thrive on the collective joy associated with memory-making. Some of my earliest and most vivid childhood memories take place on Sundays in my grandmother's kitchen. Surrounded by warm colors, yellow linoleum floors, and bold print wallpaper, music floated through the room as the sounds of simmering pots and chopping danced around the room. Delicious scents of savory cornbread and lemon zest with herbs in browning butter wrapped me up like a cozy blanket.
I spent many weekends with Mim, and as soon as I could walk, was donning an apron by her side as sous chef. She would put a step stool in front of the stove, plop me on top and place a penny on the counter next to the roux pot, instructing me to keep stirring until that shade was achieved. Laser-focused, Mim taught me countless recipes over the years, but around these parts, one is really judged on their ability to make a gumbo.
Gumbo is comfort, tradition, and a staple of the love language that is Gulf Coast cooking. It's appropriate for every day of the week that ends in Y, and Thanksgiving is no exception! A pot feeds a crowd, and the flavors are festive. And while everyone has their own special gumbo recipe, here are a few other twists on traditional Thanksgiving favorites that embrace our regional flavors.
Given our proximity to the Louisiana state line here in Southeast Texas, we share a blended and collaborative food culture heavy on the flavors of southern swamp, Cajun spices, and Creole vibes. So let's talk Thanksgiving dishes seasoned with gratitude!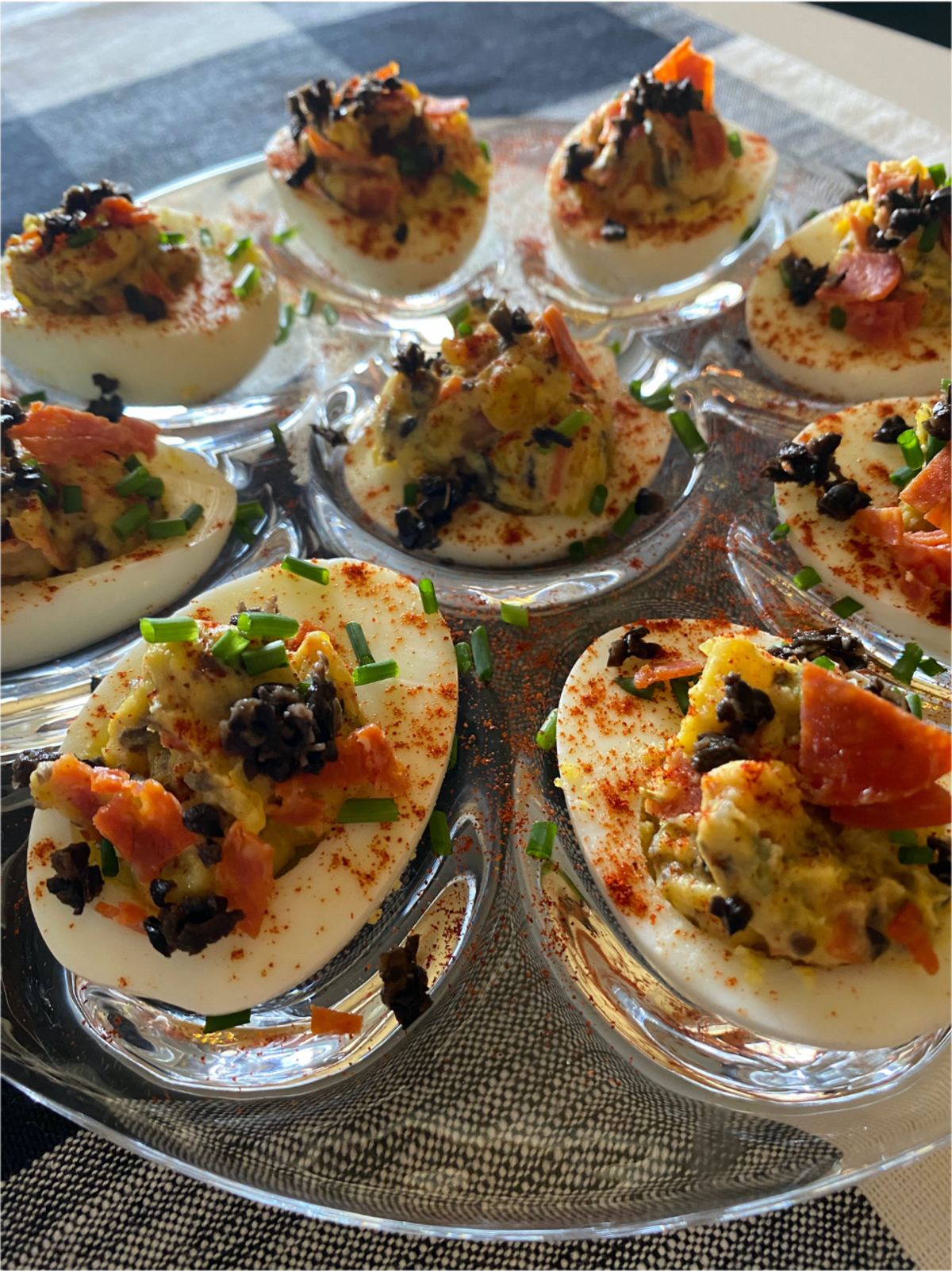 Muffuletta Deviled Eggs 
Southerners love a deviled egg, as they are filling and keep you satisfied while the main course is still cooking. After boiling and peeling, mix the yolks with spicy brown mustard, horseradish, minced black olives, banana pepper juice, diced pepperoni, and creole seasoning. Pipe the mixture into the hole and top it with paprika, chives, minced olives, and diced pepperoni. Drizzle it with hot sauce for a kick.


Gulf Shrimp Gumbo with Creole Potato Salad
Everyone has their own family gumbo recipe so we won't try to convince you ours is better, but we will offer the addition of potato salad. Rice is the typical starch served with gumbo, but potato salad is also a common side in southern Louisiana.  Roughly chop and boil red potatoes, toss them in melted butter, spicy creole mustard, roasted garlic, chives, and Tony's seasoning, which stand ups nicely to the rich flavors of a roux.

Smoked TexJoy Turkey
Local spice legend, TexJoy is the perfect choice to dress a turkey before smoking it with mesquite or pecan chips for extra layers of SETX flavors. Coat the turkey in butter and pat on the TexJoy for a crispy crust. Stuff sage, rosemary, orange wedges, and garlic cloves inside the bird to guarantee juicy poultry perfection. Use these ingredients on any portion of turkey you may be cooking – it's also great for Turkey & Dumplings or Turkey Pot Pie for a twist.

Smashed Sweet Potatoes with Lemon Garlic Aioli
Reimagine a Thanksgiving classic with baked sweet potatoes adorned with melted butter, chili powder, and cayenne pepper smashed into little mounds on a sheet pan for 15 minutes at 400 degrees convection in the oven. Once the bottom gets crispy, drizzle it with a lemon garlic aioli and a generous helping of chive magic. Toasted parmesan crumbles add an extra pop.
Aioli is often used as a "punch up sauce" atop crab cakes, fried calamari, blackened fish, or artichokes. Spoon it over the smashed potato bites for a bright finish. To make the sauce, pulse one egg yolk, 2 tbsp extra virgin olive oil, juice of whole lemon, three whole garlic cloves, a dash of salt and black pepper, and four shakes of Tabasco in a food processor. You can also use an immersion blender in a mason jar.

Kicked up Collard Greens
No southern dinner is complete without a large pot of collard greens. Slow simmered with love, crispy bacon pieces, and minced garlic, they are even better the next day. Never boil greens ya'll, as you will cook the nutrients right out of them. Aim for a bright green and then lower that heat.
Don't Skip Dessert
Pies and cakes are standard holiday fare, but for a Cajun-esque ending, cranberry pecan bread pudding is the perfect finish. Any bread will work, but day-old French bread is my go-to. Slice into thick cubes or pinch off with your fingers, stacking it up into a buttered casserole dish. Stir in room temperature cranberry sauce, pecan pieces, orange zest, and cover in cinnamon. Beat two eggs, two cups of milk, two teaspoons of vanilla, 1/3 cup of brown sugar, and a splash of bourbon if you're feeling frisky together in a bowl.  Pour it over the bread/fruit mixture and bake at 350 for 30 minutes.
We encourage you to take a moment to feel gratitude for any version of a family meal this holiday season, and don't forget to keep it spicy! Cheers y'all.