Come join in on the fun of the second annual #EATBMT Restaurant Week November 10-17, 2019! With the success of last year's event, we cannot wait for this year. The weeklong event will showcase local restaurants throughout the Golden Triangle and celebrate what Southeast Texas knows best – food. Participating restaurants will offer special fixed menus priced at $10, $20, and $40. 
"The Beaumont Convention and Visitors Bureau has been adamant about promoting our local food scene," said Tourism Director, Christina Majdalani Lokey. "The CVB launched its #EATBMT culinary tourism campaign last year and we are so thrilled to offer another way for the community to indulge in the local food scene. Restaurant Week is a mouthwatering way to support locally-owned and operated restaurants in Southeast Texas!" 
With over 30 establishments participating this year in Restaurant Week, we are so excited for both community members and visitors to get a taste of what Beaumont has to offer! Check out a favorite restaurant that you haven't been to in a while or try something new! This week allows you to get out in the community with friends and family and experience new things!
This year, the Beaumont Convention and Visitors Bureau is teaming up with Del Papa Distribution Company and area restaurants participating in Restaurant Week to host a Museum Pub Crawl at the Art Museum of Southeast Texas (AMSET), Texas Energy Museum and Fire Museum of Texas from 5:30 – 7:30 p.m. on Friday, November 15, 2019. The event will showcase area attractions with "Beer and Bite" stations throughout the three museums. Other museums and attractions will have booths set up at the AMSET to showcase their establishments as well. 
Tickets are available on Eventbrite for $10. Those who are interested in attending the event will show their "e-ticket" to the check-in table at the AMSET. Proceeds will benefit the Downtown Beaumont Cultural Arts District (DBCAD). 
Restaurant Week 2019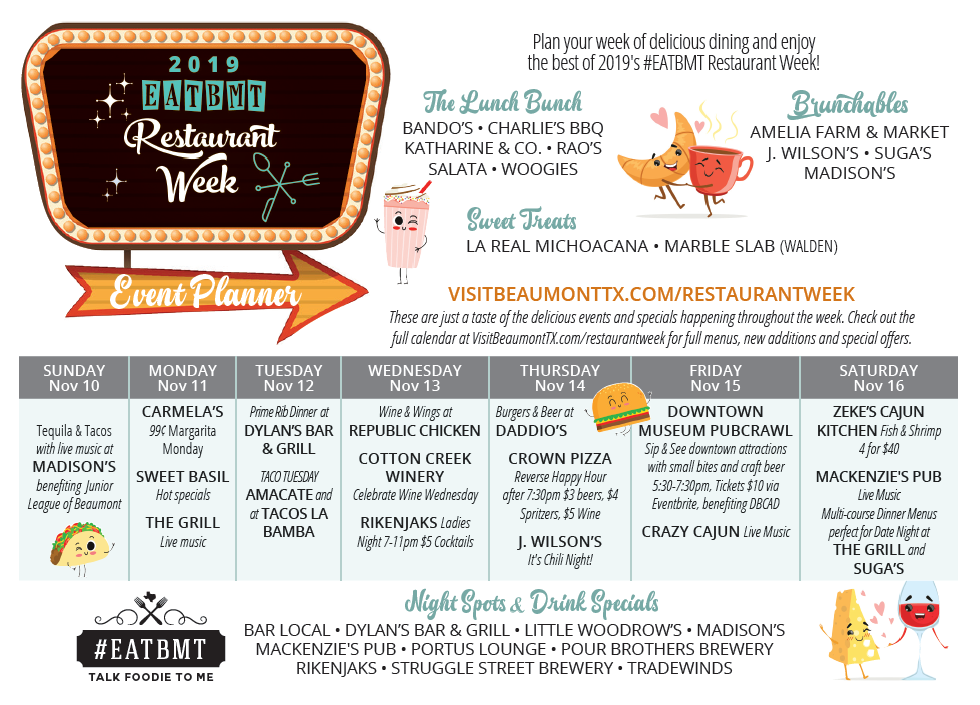 ---