The Beaumont Convention and Visitors Bureau (CVB) prides itself on making the meeting planning process as easy as possible. We are here to assist any and all meeting planners when planning their event in Beaumont whether large or small. We welcome all groups to plan their meeting with us and what better way to start the New Year than hosting your group with the Beaumont CVB?!
What You Need to Know:
Attendees
The number of attendees is a vital part of what the Beaumont CVB needs to know in order to make a meeting successful. Having a good grasp on the size of your event, lets our staff know what accommodations are needed.
Space
Whether a large or small group, Beaumont has a meeting space for everybody! If you have a group that is interested in an all-inclusive meeting site, our two meeting hotels, MCM Eleganté Hotel and Conference Center and Holiday Inn and Suites Beaumont Plaza, offers the perfect all-in-one choice. Looking for something a little out of the box? Consider utilizing the Clifton Steamboat Museum Complex, Jefferson Theatre, Julie Rogers Theatre or Spindletop Gladys City Boomtown Museum for unique meeting experiences.
Activities
When you are hosting an event in Beaumont, we also want you to experience it! Consider offering pre and post trips for your meeting. Take your group to see alligators and reptiles at Gator Country Adventure Park. Stroll through the Beaumont Botanical Gardens and Cattail Marsh Wetlands and even try horseback riding at the Tyrrell Park Stables at Tyrrell Park. Experience the Neches River through kayaking and canoeing or take a trip on the Ivory Bill. Beaumont also offers a number of museums that can pique all interest.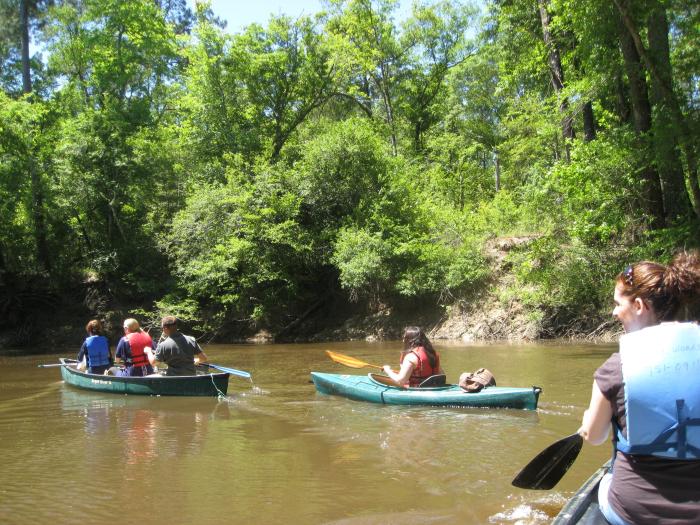 Planning Process
Visiting Beaumont for a site visit (12 -24 months out) is an important step in the meeting planning process. Coming to Beaumont to see the hotels, meeting space and things to do gives you a taste of what your meeting will be like when hosting it in Beaumont. From there you will book your space, spread the word to your attendees, define service for your group and then host an amazing meeting in Beaumont.
The Beaumont CVB wants to work with your group to bring your meeting to Beaumont. The sales and servicing team is on your side. With our expertise, we make the process as smooth as possible to ultimately have a successful meeting. Contact our team to book your next meeting. We would love to have you!