2020 has been a year. We've worked from home, haven't been able to see our family and friends, worried about how we were going to pay the bills, learned everything we could about Covid-19, stashed masks everywhere, and stocked up on Clorox wipes and toilet paper. We've learned how to mitigate the risks while trying to get back to our old way of life.
This year, December 3-5, The Junior League of Beaumont is hosting its 17th annual Main Street Market. And this year will not only be the best markets yet, it will also be the most important shopping you've done all year.
That's a big promise. But Main Street Market 2020 comes with big rewards. Similar to the market in years gone by, this market is filled with small businesses. However, this year, many of the vendors are brand new, setting up shop in the midst of a pandemic.
With oil prices down, unemployment up, and families juggling more responsibilities than ever, many of this year's vendors are first time attendees who created a business out of necessity, when the bank accounts were low, tensions were high, and bills needed to be paid, channeling their skills into new creative outlets.

This year, do your holiday shopping knowing you're supporting individuals like Peyton Provost of Lucky Pepper, a 25-year-old mother of two who started making gorgeous earrings in quarantine. Dustin Edler (Dusty Chisel Designs), another local started making handmade wooden home décor when his hours were cut this spring. Or husband and wife team, Sean and Renee Williford, who created fabulous and fun wooden jewelry when their backs were up against a wall.
For three days, sixty plus vendors turn their booth space into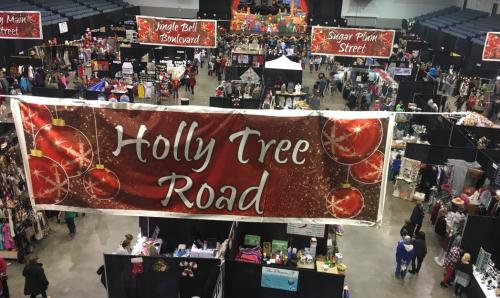 beautiful shops with Christmas lights, decorations, and so many items you will only be able to purchase here. But changes were also made so you feel safer while shopping. Here's what you can expect at this year's Market:
Hand washing/Sanitation Stations around the Civic Center
Masks Mandatory
Vendors will be spaced out
Limited attendees
Wider walkways
Temperature checks
Tickets available online only to cap crowds
Personal mini family portrait sessions Saturday from 10 am- 2pm instead of Santa
Whenever you plan to shop this season, remember the Southeast Texas businesses who give back, who donate food to local sports teams, go above and beyond to support the area non-profits, and our neighbors who make the community a better place because of their love for Southeast Texas.
The Junior League of Beaumont's Main Street Market has been a success since 2003 because of amazing volunteers and the continued support of local businesses and the community. Planned and executed by an all-volunteer troupe, the Market raises money to fund events, non-profit groups, and scholarships. Funds raised from Main Street Market stay in Southeast Texas. Check out the schedule of events and get your tickets today.