Head out to the Lamar University Campus for the Homecoming Bonfire and festivities on Friday, September 30, 2022 and game day festivities on Saturday, October 1, 2022. 
Pep Rally and Bonfire at Spindletop Field 7 p.m. (9/30)
Get your Red on and join Lamar University for the Pep Rally lighting of the Homecoming Bonfire at Spindletop Field and meet your winners and finalists for Homecoming Court!
Big Red's Ride Classic & Antique Car Show at the Spindletop-Gladys City Museum 10 a.m. - 3 p.m. (10/1)
Celebrate Homecoming at Lamar University by taking a step back in time at the Spindletop Gladys City Museum and viewing an amazing assortment of beautifully restored cars from area car clubs. You might even catch Big Red and Lu checking out the cool rides! No entry fee for participating cars and great prizes. Free parking and shuttle service to Homecoming FanFest. 
Homecoming FanFest at the Montagne Center 10:30 a.m. - 2:30 p.m. (10/1))
There is something for the whole family at Homecoming FanFest at the Montagne Center A-5 Parking Lot. Booths from museums and university departments will provide educational and entertaining children's activities, lawn games, and other tailgating activities. Free parking is available in lots off Rolfe Christopher. Admission is FREE and open to the public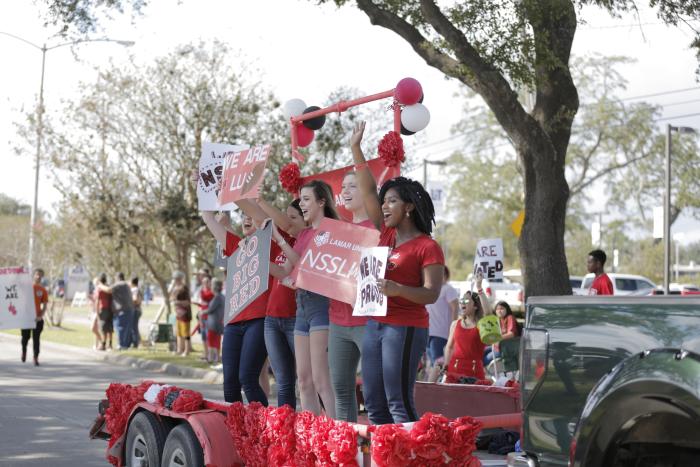 Art Exhibition: Art Exhibits by Keith Carter and More at the Dishman Art Museum 12 - 4 p.m. (10/1)
Join the Dishman Art Museum for FREE museum tours and viewing exhibits.
Lamar University vs. Houston Baptist at Provost Umphrey Stadium at 4 p.m. (10/1)
Cheer on the Cardinals in the Homecoming Game! The Cardinals will face Houston Baptist with a 4 p.m. kickoff. Halftime will include the presentation of the Homecoming Court and Homecoming Parade Winners, along with a band production.