The Beaumont CVB sales team is committed to keeping you up to date on what is new in the city. From the newest attractions, hotels and meeting spaces that Beaumont offers, we want to showcase to you all that Beaumont has to offer.
So, how do you stay informed? The Beaumont CVB website hosts information on all thing's meetings. Learn more about our event venues, hotel options, tips on how to plan your meeting and more. But, if you want to see interviews with partners, tricks for the meeting industry, meeting locations, and hot sports in Beaumont, check us out on social media at @meetbmt on Facebook and Instagram as we highlight new things each month.
Susan Jackson handles our "Wednesday Review" on Facebook every other Wednesday. Susan features different partners each month, what is new to the area and how you can support local businesses during your stay in Beaumont. From trips to the Farmer's Market or figuring out where you can get great barbecue for your next event, she covers it all.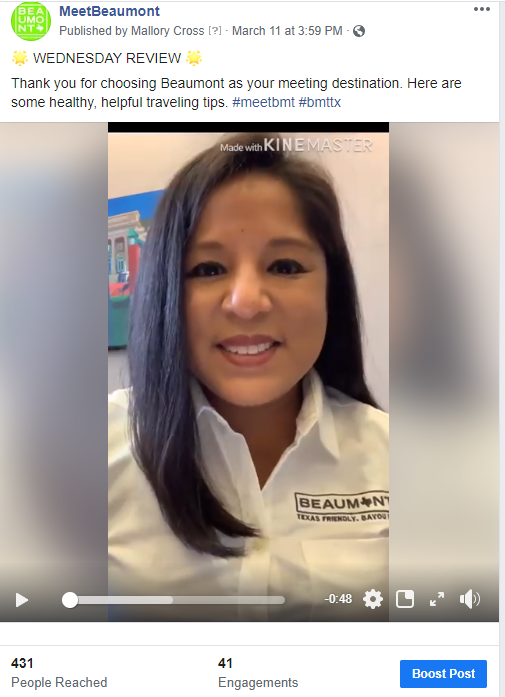 Rebecca Woodland covers "Meeting Extra's" and a "Beaumont Trivia Challenge" every other week to keep followers involved and learning about what the CVB offers. From mediation and Zumba classes to information about the area, the Beaumont CVB sales team is invested in getting involved and making it fun.
Freddie Willard will take you up close with our "Behind the Scenes" segments to see what is going on with the Beaumont CVB. Join the sales team at events and during travel to see what we do to bring business to Beaumont.
Make sure to follow @meetbmt on Facebook and Instagram to see what is going on in Beaumont. The Beaumont CVB is so happy to welcome visitors and meeting planners to the city. We can't wait to work with future clients and show y'all what the city has to offer.