Just announced! Clint Black and his full band will perform his comeback tour "On Purpose" for the first time in Beaumont at the Julie Rogers Theatre on Thursday, August 4 at 7:00 p.m.
Tickets go on sale Friday, June 24 at 10:00 a.m. and can be purchased at the Beaumont Civic Center Box Office, all Ticketmaster locations and on Ticketmaster.com. To charge tickets by phone, call (800) 745-3000.
Clint Black is back! The multi-million selling country mega-star recently released On Purpose, his first full-length album of new songs in a decade and he's doing it on his own terms.
"To me, it's only a 'comeback' in that I'm putting out something new," says the award-winning singer-songwriter. "As someone who has never stopped working, I don't see me as having gone away, as I tour extensively, write and produce for television, films as well as other artists." 
During his hiatus Black was courted by the majors (labels). All of them wanted him to sing other writers' songs, but Black insisted on writing his own, as well as to being his own producer.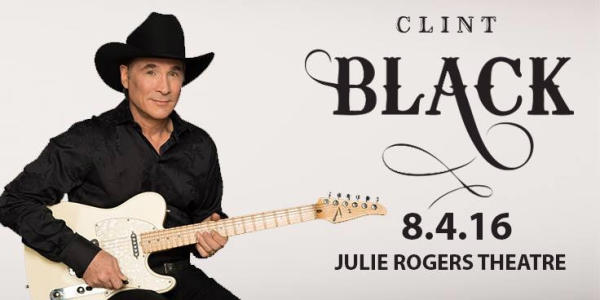 "I really don't want to conform to what other people think I should be doing with my music," he says, bearing no ill will to major music corporations. "Instead, I'll take my chances just being me. So I ended up just walking away from those opportunities. Our journey took us to Thirty Tigers Records, where I really feel I can be myself."
Thirty Tigers also distributes music by such independent spirits as Marty Stuart, Shooter Jennings, Jason Isbell, Lucinda Williams, The Eli Young Band, Pat Green, Aaron Watson, The Avett Brothers, Chase Rice, Billy Joe Shaver, Sturgill Simpson, Bruce Robison, Jessi Colter, etc.
Black's On Purpose compiles a strikingly diverse group of his self-produced songs. His ballads "Only One Way to Live," "Stay Gone," "Breathing Air" and "The Last Day" have never cut deeper, while his spirited "Beer" and "Better and Worse" are among the most upbeat songs he has ever crafted. "Time For That," "Doing It Now For Love" and "Summertime Song" are catchy examples of how groove-soaked his music can be. The lilting "You Still Get to Me" marks Black's third duet with his wife, actress Lisa Hartman Black. "Calling It News" is a wry, topical statement. "The Trouble" is colored by Australian slang.
These new songs continue a stellar career. To date, Clint Black has sold more than 20 million albums worldwide and racked up 57 charted singles, 31 top-10 hits and 22 number-one smashes. Recordings such as "A Better Man," "Killin' Time," "Like the Rain", "When I Said I Do" and "Nothin' But the Taillights" have led to honors from the Country Music Association, The Academy of Country Music, The Grammys, and the American Music Awards, as well as membership in the cast of the Grand Ole Opry.
More information about the tour can be found at clintblack.com.
For up to date information visit discoverbeaumont.com, follow Beaumont Events on Facebook or call (409) 838.3435.