Two young men sit at a plastic table set up in front of Bonnie Cokinos' Dance Studio on Calder, relaxing for a moment after a busy Friday lunch rush. Behind them, is a large truck emblazoned with the blue and white logo "DAT MAC." They are Aaron Barnhill and Jordan Stringer, and this delicious endeavor is their brain child.
"So what made you guys decide on mac and cheese?" I ask Stringer. "We are so much more than just mac and cheese," he replies. Barnhill adds, "You can go anywhere in the world for mac and cheese, but you'll never find anything like us."  
Barnhill and Stringer met each other through mutual friends in 2014. Barnhill had been testing out his recipes on his friends for about a year, thinking he might start up something if the opportunity presented itself. He would hand out samples in little tin foil cupcake liners.
Knowing how well Barnhill could cook motivated Stringer to consider the endeavor. After talking over a few beers, they decided to make a dream job for both of them into reality. It took them almost a year to get everything ready, perfecting new recipes and preparing the truck to meet health department standards.
"There's a stigma in the area that this is difficult to work with the health department, but it's really not," says Stringer. "It's really easy to work with them and keep up to date on everything." 
It took them less time than many restaurants in the area to earn the "Superior" rating that is proudly displayed above their Taste of Triangle award from last year. 
Barnhill and Stringer also try to give back to the community by helping out with benefits and buying products locally. 
"Our signature Texas Heat recipe is made with Zummo's sausage and bacon, and Texjoy seasonings, all made here in Beaumont," Barnhill says. 
Every week, they have a different set of recipes available. 
"That's one of our biggest challenges is balancing the menu out every week. We try to make sure we don't have all chicken items on the menu, or two super cheesy recipes. We also try to cater to more adult tastes along with a best-seller that everyone loves," explains Stringer. "It's definitely a balancing act!"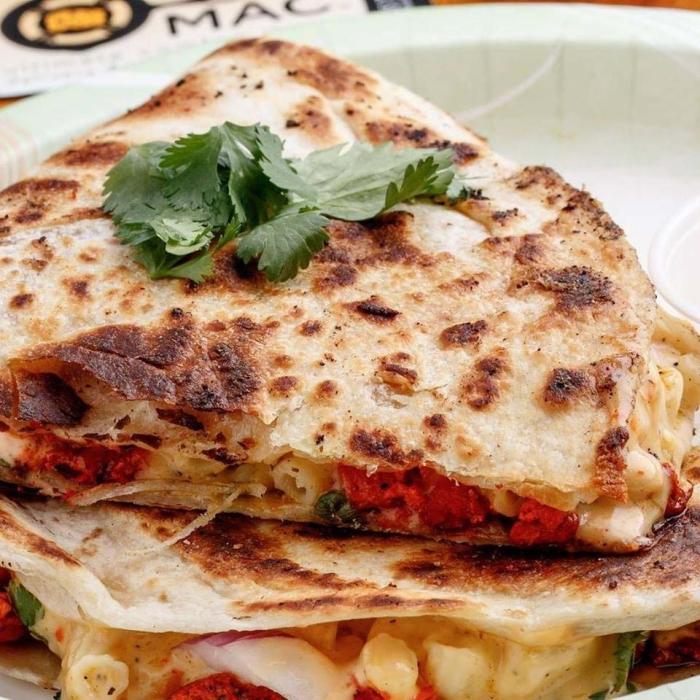 Some of their more unique dishes include The Dubliner, a gluten free dish that features gnocchi pasta and cider braised pork loin; and the fan-favorite Macadilla, a quesadilla filled with their classic home style mac and cheese, and choice of marinated grilled chicken or ground beef. All of their dishes range at or below the $10 mark, making it an affordable and delicious option. 
Dat Mac is open Tuesday-Friday from 11:30 a.m. to 3:00 p.m. and is located in front of Bonnie Cokinos Dance Studio on Calder. Be sure to follow Dat Mac on Facebook where there menu is posted weekly and any schedule changes or additions are mentioned. Dat Mac is available through the smart phone app Waitr and offers catering. 
As a parting question, I ask them what they would tell people visiting the area.
"Dat Mac is a Beaumont staple, there's no Dat Mac anywhere else!" says Barhnill. "If you come through here and don't eat somewhere local, you're wasting your time."