In recent years, Americans, as a whole, have been spending more money going out to eat than ever before. At the same time, the restaurants everywhere have stepped up their game due in large part to social media leading culinary tourism to be on the rise.
Online outlets such as Facebook and Instagram have played a monumental role in driving the interest and enthusiasm when it comes to the daily food experiences of diners everywhere. In fact, discovering innovative eats and photographing beautiful meals has never been more popular.
The most interesting aspect of this foodie revolution is the story behind the menu items. My favorite part about traveling to a new restaurant is learning the origin of the business and how the eatery came to be. This experience encourages awareness of different cuisines and cultures.
Most all business owners in Southeast Texas are down-to-earth folks who spent weekends catching blue crabs at Crystal Beach, or someone who spent long nights in the kitchen creating masa for tamales with grandparents. When menus are crafted with life-long memories in mind, they end up satisfying not only consumers but the community as a whole. 
 Now is a pivotal moment to showcase what our particular area of Southeast Texas has to offer when it comes culinary tourism. With our proximity to Louisiana, the Gulf Coast, and even Mexico, Beaumont and surrounding cities harbor a melting pot of different flavors and unique tastes to offer visitors and residents who are timid to try something new.
With a readily accessible database of local eateries to browse through, the ability to answer the inevitable question: "So honey, where do you want to eat tonight?" will be made much easier. People will also be able to browse options and then make decisions based on the photos and experiences of others. Whether its Taco Tuesday or Sushi Saturday, the Beaumont CVB wants to provide the information.
First, we feast, then we hashtag.
Because the current state of our society is influenced by internet marketing to drive our spending, there is no better way to boost culinary awareness than a new hashtag campaign.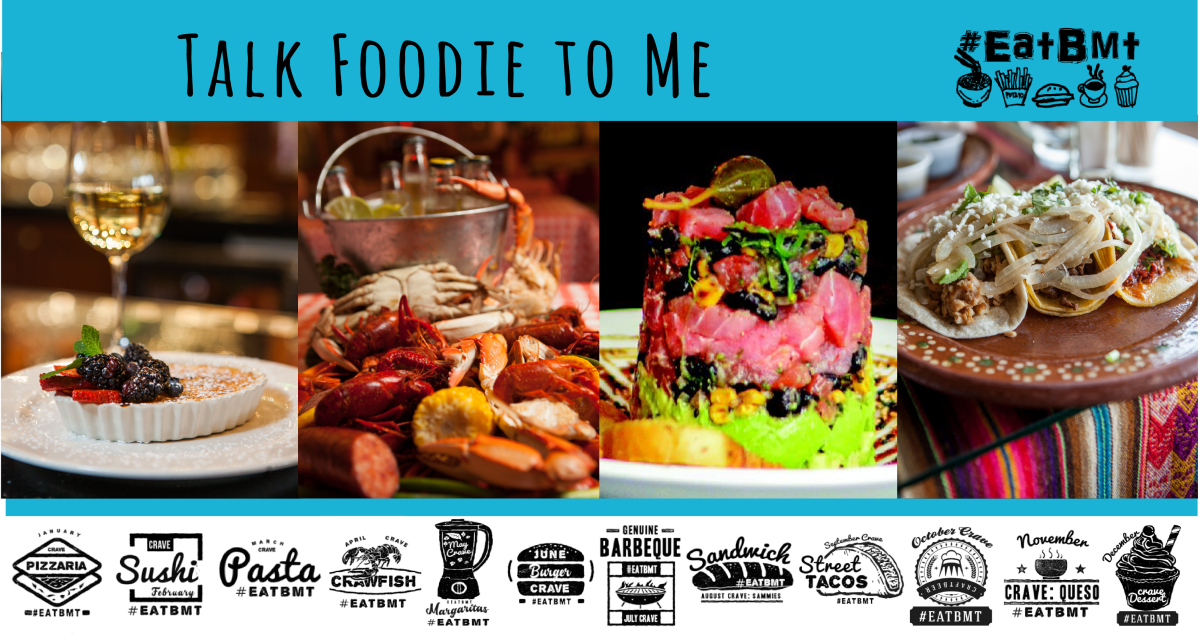 It's fair to say that sharing photos of food and drinks has practically become a hobby for some folks. A single photo of a mouthwatering menu item has to ability to convince consumers to visit a particular place.
Debuting at the 2018 Sabine Area Restaurant Association's Taste of the Triangle, the City of Beaumont Convention and Visitor's Bureau in conjunction with participating local restaurants will introduce #EATBMT. 
The goal with #EATBMT is to have restaurants incorporate the hashtag within their online marketing, in addition to encouraging diners to snap photos of their memorable meals and share the hashtag along with it. 
In conjunction with the participating restaurants, the Beaumont CVB will hold monthly giveaways of gift certificates and merchandise, thereby encouraging more folks to eat locally. 
While experiencing other cultures through food is at an all-time high, the Beaumont CVB and locally owned eateries need to capture and take advantage of the current interest. 
Residents and visitors of our area will come to recognize that Southeast Texas is full of friendly business owners who want to satisfy customers with high quality presentations and form everlasting relationships from generation to generation. We want our restaurants to become a place where you bring your kids to eat now, but will later evolve into a place that your grandchildren will come to enjoy.
With the #EATBMT campaign, we will inevitably strengthen community ties as well as bringing culinary tourism experience to our area. By choosing local eateries and promoting your experiences at them, all of your friends, neighbors, and even tourists will become more informed at the delicious options available. We hope you enjoy what's to come in 2018.