This weekend in Beaumont, Texas is big for pet lovers - especially if that pet happens to be a dog. Families and their favorite canines gather together each October to enjoy great food, music, and furry fun for Beaumont Main Street's DOGtober Fest! Included in the festivities are a Strut Your Mutt Parade, DOG-exercise with Jande Fido, and other dog-themed activities. For visitors looking for pet-friendly hotels and dining options, we've got you covered. 
Many Beaumont restaurants realize that Fido is a family member, and will welcome him on their patio, with certain limitations. The Old Town area of Calder is an especially convenient place to travel with your pooch. With the beautiful sidewalks and multiple establishments with patios, you could make a day of it. 
At Super Antojo Bakery, get a  Mexican pastry and sit outside to enjoy the lovely landscaping. There's even a large grassy area where you could let Pooch run around a little (still on his leash, of course). Rao's Bakery has a covered side porch with a perfect view of Calder where you and your pet can enjoy a delicious iced Caramello or spiced chai. For an authentic Italian dessert, try the cannoli. 
The patio at Pour Brothers Brewery is perfect to hang with your dog, some friends, and a cold beer. It's one of those places where you could literally spend all evening into the night if your doggie also happens to be a party animal. If you're in the mood for some horchata and street-style Mexican tacos, head down to Tacos La Bamba. You can enjoy your human and canine company, along with your food, under the bright umbrellas on their side porch. As for the tacos, I recommend the barbacoa, super-style - with avocado, grilled onions, and white cheese.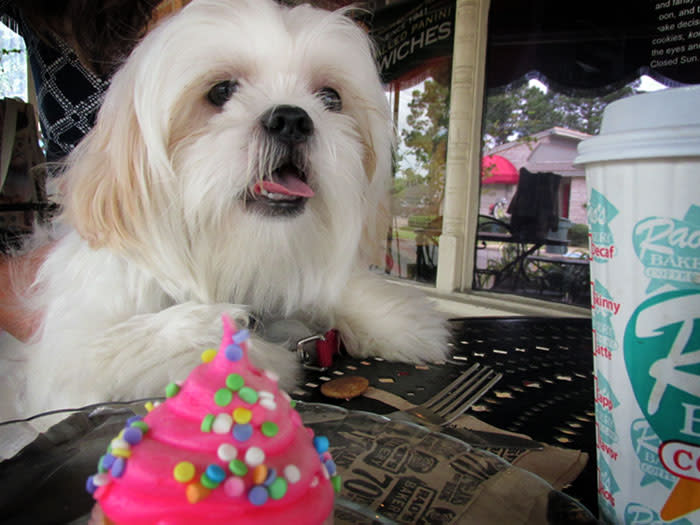 During lunch hours Monday - Friday, or on the first Thursday of every month, bring a friend and your dog to experience the delicious freshness that is Katharine & Co. The sidewalk right outside their doors has plenty of tables, and anything on the menu will delight your taste buds. On the other side of town, Jason's Deli on Dowlen has a large covered patio where you can enjoy one of their classic sandwiches or a salad from the salad bar while Fido enjoys playing with the birds that will surely visit. 
It's essential to remember doggie etiquette when you bring your four-legged companion with you.
Always, always be prepared to pick up after your furry friend, and dispose of everything properly.
Keep your friend on a leash, at all times.
Make sure he or she is accompanied at all times, even if you are going inside for only a few minutes.
Remember, not everyone loves your best friend as much as you do. Never allow your dog to approach another person, unless they specifically say so. 
Now, with doggie etiquette in mind, go enjoy some great al fresco dining with your best four-legged friend! Special thanks to Jango and Merlin for being such good boys for the photo shoot!