Day of the Dead
Día de los Muertos
The Day of the Dead, or Día de los Muertos, is a deeply meaningful Mexican tradition that has gained popularity and recognition worldwide. This celebration takes place annually from October 31st to November 2nd and is an occasion for families and communities to honor and remember loved ones who have passed away. In Beaumont, this cultural celebration can be experienced at Super Antojo Bakery, and many residents come together to create ofrendas, colorful altars, as a way of commemorating their dearly departed. 
The Day of the Dead is a festive, symbolic, and spiritual event that merges Indigenous Aztec and Spanish traditions, beliefs, and rituals. It's not a somber or mournful occasion but rather a time to celebrate and honor the lives of those who have passed away. Families remember their loved ones by creating ofrendas, which are beautiful and colorful altars adorned with a variety of items, including marigold flowers, candles, sugar skulls, favorite foods, and cherished belongings of the deceased. It's believed that during these days, the spirits of the deceased return to the world of the living, and families want to make them feel welcome, offering their favorite things and sharing stories about their lives.
Beaumont's diverse community enthusiastically embraces this Mexican tradition, organizing events and activities to take part in this celebration. At Super Antojo you can find colorful displays, lively music, traditional dances, and, of course, ofrendas. Enjoy art exhibits, live music, dance performances, and a community ofrenda where people can place their offerings and mementos to remember their loved ones.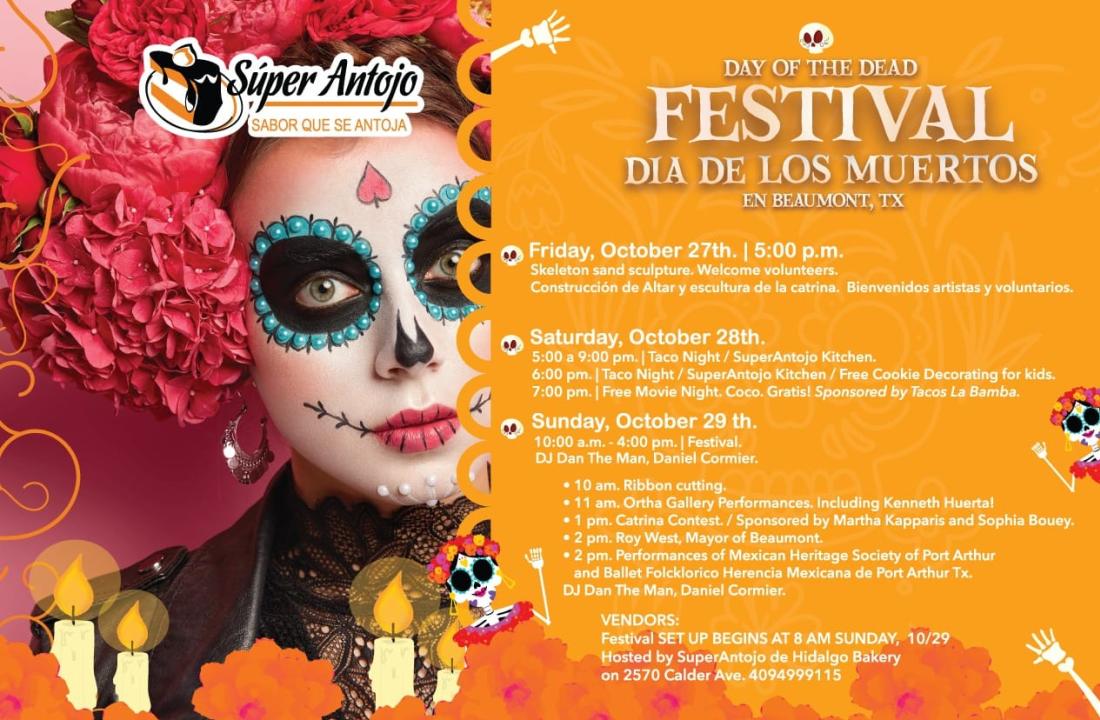 Creating an Ofrenda in Beaumont
If you want to participate in the Day of the Dead celebration in Beaumont by creating your own ofrenda, here's a guide:
Choose a Location Select a suitable location for your ofrenda. It could be in your home, in a public space, or even at a local event if there's an opportunity to do so.
Gather Your Supplies Collect the items you'll need for your ofrenda. Items that are common are a table (usually with 3 levels to represent life, death, and the afterlife), a bright tablecloth, marigold flowers (cempasúchil) to represent earth, candles to represent fire, water, papel picado (colorful flags) to represent air, incense to represent ether, sugar skulls, photographs, and the favorite foods and drinks of your deceased loved ones.
Set Up the Ofrenda Arrange the items on the table in a visually appealing and meaningful way. Use candles to light the path for the spirits and place photos of your loved ones as the central focal point. Flower petals can be used to create a path to the ofrenda, as well. 
Personalize Include personal mementos, such as belongings of the deceased, photographs, and letters to share their memories.
Celebrate and Share Stories During the Day of the Dead, invite family and friends to join you at the ofrenda. Share stories, memories, and food and drinks in honor of your loved ones. It's a time for celebration, laughter, and remembrance.
Creating an ofrenda is a beautiful way to participate in the Day of the Dead celebration and connect with the cultural diversity of Beaumont. It's a wonderful way to pay tribute to those who have passed away and to embrace the rich culture and community spirit of Beaumont.