Conveniently located in the charming streets of Beaumont, Daddio's Burger is a gem that has been tantalizing taste buds and winning hearts for 10 years. Daddio's Burgers, a local burger joint with a gourmet twist (and the best ranch dressing in town), has emerged as the ultimate destination for burger enthusiasts seeking an authentic and delectable culinary adventure. This unassuming eatery has managed to capture the essence of Southern comfort while pushing the boundaries of burger creativity, making it a must-visit establishment for both locals and visitors alike. 
Daddio's Burgers takes diners on an unforgettable journey of flavors that celebrates the art of blending tradition with innovation. Upon entering, guests are greeted by an inviting aroma that wafts from the kitchen and friendly owner, Charlie Jones. From classic cheeseburgers to gourmet creations, every burger is a testament to the kitchen's dedication to culinary excellence. 
One of Daddio's Burgers' standout offerings is the goat cheese burger. Charlie Jones is the owner and handles in-house operations. He says that the goat cheese burger is his favorite item on the menu and the most popular among customers. The marriage of goat cheese, applewood-smoked bacon, and chipotle sauce is a testament to the careful craftsmanship that goes into every menu item. 
For those seeking a taste of the unexpected, the sushi burger is a must-try. This Japanese-inspired delight pairs seared ahi tuna with house-made Asian slaw, wasabi mayo, sliced cucumbers, and a teriyaki glaze. It's a nod to the diverse cultures that boom in Beaumont.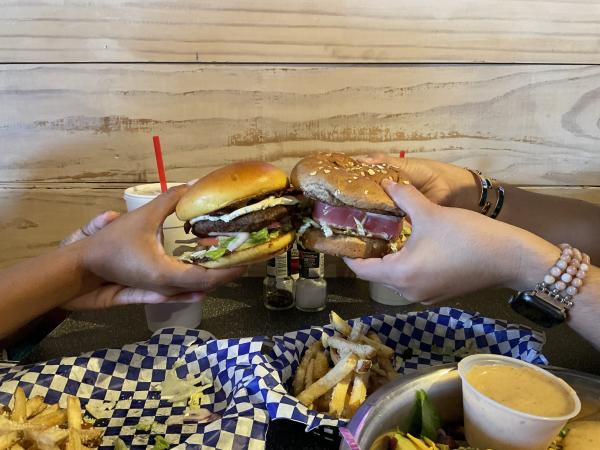 Beyond the plate, Daddio's Burgers is committed to supporting the local community. The restaurant proudly contributes to local nonprofits and supports charitable fundraisers each year.  
What sets Daddio's Burgers apart is its welcoming atmosphere that instantly makes guests feel like part of the family. Owner Charlie Jones has been a lifelong Beaumont resident and has poured his heart into creating a space where patrons can unwind, share stories, and relish the comfort of a great burger. The friendly staff members, many of whom have been with the establishment since its inception, further contribute to the warm and inviting vibe. Charlie loves seeing families come in to share a meal and even having his own wife and children come in for lunch.  
In the heart of Beaumont, Daddio's Burgers has carved out a special place where culinary traditions, creativity, and community converge. With its diverse menu, commitment to quality, and dedication to fostering connections, this local burger joint is more than just a place to dine – it's a destination that captures the essence of Beaumont's vibrant spirit. Don't miss the chance to savor the flavors and experiences that await at Daddio's Burgers.