Have you discovered the joys of family camping in southeast Texas? It's one of our favorite trips by RV. To make camping with the kids even better, allow us to give you our tips on what to pack for family-friendly camping cuisine.
Family Camping Menus

What do your kids love to eat? There's a way to make it on the road. Here's a quick list of family camping cuisine ideas:
Quick Campfire Pot Pie: Heat your favorite chicken & veggie soup in the Dutch oven and then mix up biscuit dough or instant mashed potatoes and scoop onto the soup. Cook with the lid on until the 'crust' is browned, on the cooking grate, camp stove in or in your RV oven.
Camper's Chili: Brown a chicken breast over the fire or burner, chop into bite-sized chunks and put back in the skillet with a little olive oil, onions, carrots and celery. Add canned chicken broth, great northern or cannellini beans and salt and pepper. Heat through and serve with tortillas and fresh veggie strips.
Pouch Potatoes: Peel and thin slice one potato for each camper. Place in a square of heavy duty foil covered with cooking spray. Add seasonings, bacon bits, frozen chopped broccoli or just about anything else your kiddos love on baked potatoes. Seal each pouch tightly and place in the coals to cook for fifteen to twenty minutes. Serve with butter, cheese or sour cream. A tried and true kid favorite!
Dutch Oven Breakfast: Peel and slice 4 or 5 potatoes into the bottom of your Dutch oven. Have the kids break 4 eggs in a bowl, beat with a fork and pour them over the potatoes. Add a layer of precooked sausage or chopped bacon and top it all with cheese. Add salt and pepper. Put the lid on and bake over 8-10 glowing charcoal briquettes, with 6-8 briquettes on the lid, for twenty to thirty minutes. (Also bakes well in the oven.) Delicious to wake up to at the campsite!
Stove Top Pizza: For a special treat, let youngsters grill English muffins or tortillas in a skillet, cover with tomato sauce and pizza toppings and heat until the cheese melts.
As you plan your menus, remember the seasonings and think about 'cook once serve twice' recipes that use similar ingredients. Sure saves on packing space!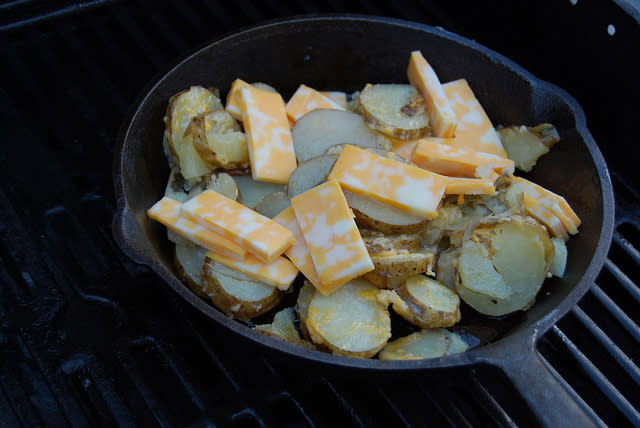 Camp Cuisine Equipment

Are you fired up to start camp cooking with the kids? Whether you use an RV kitchen, a camp stove or campfire gear, here's a list of basic equipment to pack for your trip:
Outdoor Kitchen Equipment: If you're pitching a tent, you'll have to cook over a campfire or with some type of camp stove. There are dozens of variations on the camp stove, including pre-packaged outdoor kitchens. Campfire cooking (check first to make sure open fires are allowed!) requires a cooking grate or tripod to hold a Dutch oven or skillet.
Pots & Pans: You can cook almost anything with a Dutch oven, a skillet and a couple of sauce pans. For campfire cooking, use cast iron pans with flat lids so you can place coals on top for even browning.
Utensils: Be sure to pack mixing, measuring and serving utensils and a spatula or two. Bring unbreakable tableware and pick up a set of flatware at a thrift store. Other essentials for the kitchen: can opener, corkscrew, hot pads, potato peeler, knives.
Miscellaneous: Coffee lovers will want to pack a camp percolator, filters and coffee (or go electric if you're camping by RV.) Depending on the menus you choose, you'll also need some kind of mixing and serving bowls. Pack a dishpan, dish soap and a sponge and you're ready to go.
Family memories are made around the campfire, especially when you're sharing a delicious meal. Let your kids be part of the planning, packing and cooking so they have the skills they'll need to take their own families out cooking under the stars. Get a list of camping spots in southeast Texas here.
---
Joe Laing is the Director of Marketing for El Monte RV and has worked in the travel industry for over 20 years. He has been exploring the outdoors most of his life and enjoys spending time camping throughout the United States. Joe has also been involved with the RVIA's Go RV'ing committee, campground associations, and many travel industry associations.