Gator Country's most well-known resident, Big Tex, is getting ready for his first spring season at the sprawling ranch off Interstate 10 in Beaumont, Texas. And there will be a lot more new things to experience when you make a visit! You may remember, the nearly 1,000 pound gator gained worldwide attention last fall when he was rescued from the Trinity River National Wildlife Refuge in Dayton and brought to Gator Country. Since then, he's been settling into his new home and there's also a big expansion project in the works at the popular park!
Walk inside a Gator!
For the first time ever, you will be able to walk *inside* an alligator. OK, well it's not exactly what you might think. You may recognize "Big Beau." He's located on the grounds of Gator Country (21159 FM 365) and measures in at 135-feet long and 30 feet tall. Beau is made of wood, metal siding & framing and rubber. Instead of just being something neat to look at, Beaumont owner Gary Saurage and his crew turned the gator into something way cooler.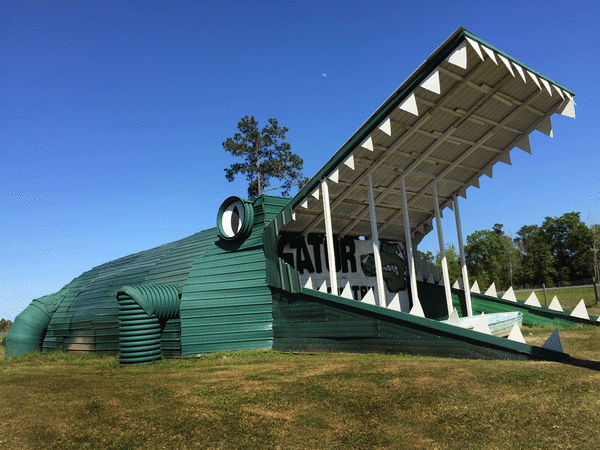 "Now you will have the chance to walk inside," said Saurage. "We made it so you can come down our brand new boardwalk, walk through the middle of the gator and through our new gift shop!"
More Room
Gary wanted to make sure people have enough room to park when they come out to visit Gator Country. It's also a way to get the attention of people driving by! A huge parking lot is now in the front of the park, right alongside Big Beau and connected to a new boardwalk. You can't miss it!
"In the past, we could have 300 people here and from the road it looks empty because the parking lot was way in the back," said Saurage. "We want to make coming here more appealing and convenient."
Big Tex is Thriving
So, how is the biggest guest out at Gator Country settling in? Since arriving last fall, it hasn't taken long for Big Tex to feel right at home.
"I never would have thought he would have done this great this fast!" said Saurage, "He just came to us in October and he's already taking food out of our hands."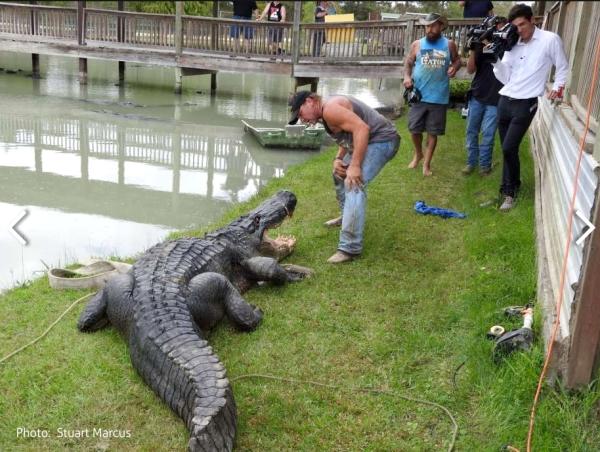 Saurage says it really is amazing how quickly Big Tex adapted to being at Gator Country and the constant action of people. 
"Of course, that is what got him in trouble in the first place. People were feeding him and he got used to humans and in the wild this can be very dangerous," said Saurage."Being at Gator Country is a blessing from heaven for him. He loves being around people and loves the one on one attention he gets here."
New Crocs
Gator Country is also home to six new Nile crocodiles from Africa. The crocs are 5 - 10 feet each and up to 13 feet long and live together in a special sectioned off area of the park. 
"We have a lot of changes going on out here at Gator Country. It's a completely different atmosphere and we would love for people to come out and see us!"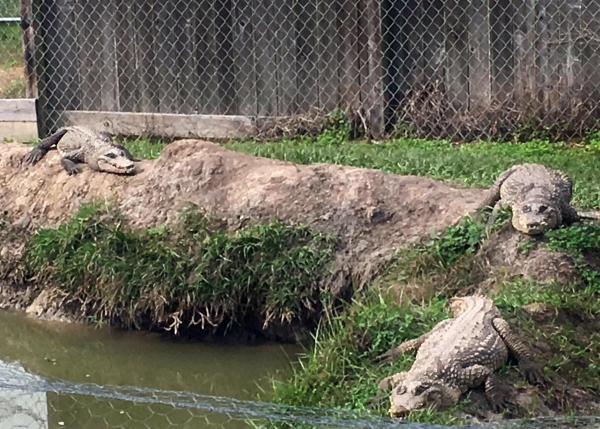 And as always, Saurage remains thankful to all the people in Beaumont and Southeast Texas who have helped him along the way.
"All of this is for the people of Southeast Texas," said Saurage. "This community has been so great to us from day one and we appreciate everything."
The park has more than 300 alligators and 4 species of crocodiles along with Caimans, alligator snapping turtles, snakes and other reptiles. It is also home to Big Al, who weighs in at 1,000 pounds and almost 14 feet in length. Gator Country has educational shows where guests get the chance to get up close and personal with hands-on interactions such as feeding and swimming with live alligators. View park times and fees here.