Fun abounds in Beaumont this October with festivals galore. To help make planning easy, we've compiled a few of our favorites for you below. Be sure to share your pictures with us. Find us everywhere: @VisitBeaumontTX or use the hashtag #bmttx. Happy almost Halloween y'all!
 
October 8 - November 1: Scarecrow Festival & Autumn Fair
Shangri La Botanical Gardens & Nature Center (Orange) | (409) 670-9113
Tuesday - Saturday, 9:00 a.m. - 5:00 p.m. | Admission, $2 - $6.
See funny, wacky and weird scarecrows designed by local businesses, groups and families at the 6th Annual Scarecrow Festival at Shangri La Botanical Gardens and Nature Center. The event is the largest Scarecrow Festival in Texas with dozens of scarecrow designs, and this event provides an opportunity for families and people of all ages to celebrate the change of seasons and view scarecrows of all shapes and sizes. Visitors to Shangri La will have an opportunity to vote for their favorite scarecrow and prizes will be awarded at the event finale, Autumn Fair, Saturday, November 1. The Autumn Fair event is fun for everyone and will include face painting, pumpkin decorating and a variety of fall-inspired games throughout the Gardens.

October 10: Art of Beer
Art Museum of Southeast Texas | (409) 832-3432
6:00 p.m. - 10:00 p.m. | Presale, $40. At the Door, $50. VIP, $60.
The Art Museum of Southeast Texas (AMSET) will host the 8th annual Art of Beer where beer lovers and those new to the brew will find dozens of the finest specialty and seasonal libations from around the world paired with complementary food dishes, cheeses, beer floats, entertainment and much more. It is here that beer lovers find the newest unique specialty releases not readily available elsewhere. Art of Beer 2014 combines the best of both worlds, pairing the finest specialty and seasonal brews with complementary food dishes and top-notch entertainment to offer guests a delectable extravaganza. To set the beer-tasting mood, Art of Beer 2014 will include live music by local powerhouse Katie Whitney and the Draw. Spicing up the cuisine offerings will be food pairings from Zummos Sausages, Two Magnolias, Crazy Jose's, Rao's Bakery, Green Light Kitchen, McAlister's Deli, H-E-B Plus on Dowlen, Basic Foods and more. Artisanal cheeses and beer floats will once again round out the evening. As an extra special bonus, this year AMSET will offer patrons an opportunity to participate in a Premium VIP Beer Tasting Session from 5 - 6 p.m. for $60 per person. This session will include an exclusive selection of premium beers and an opportunity to chat with local beer experts.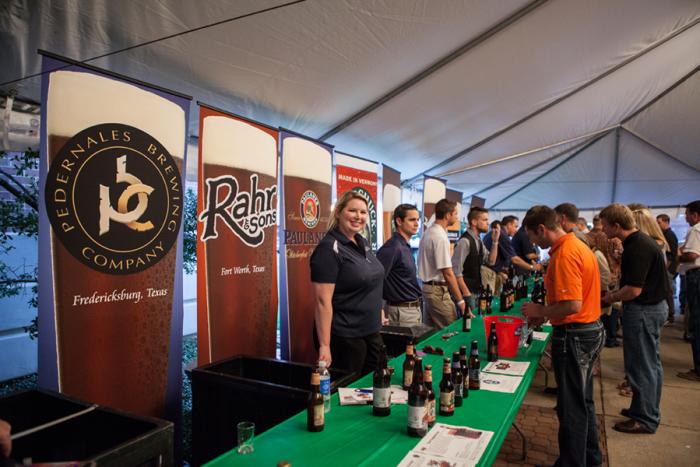 October 11: Big Thicket Day: 50th Anniversary Celebration
Big Thicket National Preserve Visitors Center | (409) 951-6700
9:30 a.m. - 2:30 p.m. | Free admission.
The Big Thicket Association will celebrate its 50th Anniversary this year with activities and programs for the entire family at their annual Big Thicket Day. Activities include: Shangri La Kids Crafts, Herman Davis the Whittler, a Black Bear Activity Box, Be a Master Naturalist, Earth Cache Hike on the Kirby Nature Trail, the National Park Fire Truck and more. Lunch on the grounds of the Big Thicket National Preserve Visitors Center will be available from 12 noon until 1 p.m. Music will be provided by the Steve & Sheryl Hartz Bluegrass Band from the Oldtime String Shop in Nacogdoches and dancing by the Alabama Coushatta Tribe of Texas. Keith Carter, internationally recognized photographer and Lamar University Endowed Walles Chair of Art, is the keynote speaker.

October 17-18: Montage: A Southeast Texas Arts Festival
Betty Greenberg Center for Performing Arts | (409) 835-2787
Friday, Shows start 7:00 p.m. | $5 per show or $20 for all shows.
Saturday, Gates open 12:00 p.m. | Entry, $10. Entry & Festillusion, $15. Children 12 & Under, free.
For two days, Montage will put as much art as Beaumont, Port Arthur, Orange, and the surrounding communities can manage into one interactive experience at the Betty Greenberg Center for Performing Arts. Ensconced in a festival atmosphere, the event will include two costume competitions, performances by local theater troupes, artists from all over the region, food, drink, fun, games, and everyone will be in costume whether they're competing or not! (You should come in costume too!) On Friday, October 17, BeauMontage will feature a series of short, comedic performances by area community theater groups. On Saturday, October 18, gates open for the Montage: A Southeast Texas Arts Festival. Expect costumes, buskers, mummers, dancers, actors and more. A special appearance by Edgar Allan Poe will thrill and entertain children, and a children's costume competition will let them show off their alter egos! Festillusion (an adult costume competition) begins at 7:00 p.m.

October 23: Heritage Happy Hour & Haunted Halloween Tour
The Chambers House | (409) 832-4010
Happy Hour, 5:30 p.m. Tours, 6:00 p.m. | Happy Hour, $5 (21+). Tours, free.
Don't miss your chance to wander the halls of the historic Chambers House Museum with a one of a kind look into the past. Guests of all ages will enjoy a peek into the lives of departed Chambers family members, portrayed by costumed actors. Starting at 5:30 p.m., Giglio Distributing Co. will be showcasing the Day of the Dead Beer during Heritage Happy Hour. Wine will also be available, as well as water and drinks for the kids. Free tours of the Chambers House start at 6:00 p.m. and food trucks will be present for those wishing to purchase food. Or, bring your own snack or dinner and enjoy it picnic style on the grounds of the Chambers House. (A picnic blanket and lantern is encouraged as daylight is limited.) The dearly departed will be present for one night only, so make plans to see them during this brief special appearance! There will also be a station for kids and adults wanting to create and decorate their own mask for Halloween!

October 25: Free Family Arts Day, "Eat a Bug!"
Art Museum of Southeast Texas | (409) 832-3432
10:00 a.m. - 2:00 p.m. | Free admission.
Frightful creatures and spooky art activities await at "Eat a Bug!" Family Arts Day at the Art Museum of Southeast Texas (AMSET). Children and their families are invited to celebrate Halloween and Day of the Dead by feasting on fried crickets, decorating sugar skulls and enjoying a variety of exciting art activities and folk dancing by the Mexican Heritage Society at this Family Arts Day. In addition, families can enjoy artwork featuring Celia Eberle & Dorinth Doherty. Face painting and refreshments will round out this "spooktacular" event. Children are encouraged to wear Halloween costumes and participate in AMSET's Halloween costume parade. Admission is free and open to the public.

October 25: Dinosaur Day
Texas Energy Museum | (409) 833-5100
9:00 a.m. - 1:00 p.m. | Free admission.
Bring the kids and head to downtown Beaumont for Dinosaur Day - a free, educational program featuring outdoor activities where children learn about dinosaurs and how fossils are found and studied. On the grounds of the Texas Energy Museum, kids can search for fossils, see them through microscopes, and view previously discovered fossils on display. Children can also assist paleontologists clean dinosaur bones and learn the field techniques for removing large fossils from dig sites. Kids and adults alike enjoy helping make and paint huge papier-mache dinosaurs and excavate their own dinosaur replica from a "fossil-pit." Children's take-home activities include making paper rubbings of fossils, creating a stegosaurus hat, casting fossilized shells, and making fossil replicas. Dr. Jim Westgate, Professor of Geology at Lamar University, will present information on "dinosaur-hunting" and help identify fossils brought by visitors.

October 25: Neches River Adventure Tours: "Dinosaurs on the Neches"
Riverfront Park | (409) 651-5326
9:00 am - 1:00 pm | Adults & Kids (11+), $5. Kids 10 & Under, free.
As a nod to Texas Energy Museum's Dinosaur Day, Neches River Adventure Tours will conduct guided "Dinosaurs on the Neches" tours of the nearby Neches River aboard the Ivory Bill. Information on the paleohistory of the river system will be given while visitors relax on the 40 passenger pontoon boat. Visitors must pre-register on site for the river tour that will be offered for Dinosaur Day at a special discounted price.