The Beaumont Convention and Visitors Bureau is proud to announce its numerous winnings in the Texas Association of Convention and Visitors Bureaus (TACVB) Idea Fair at the organization's annual conference in Sugarland, last week. 
"Beaumont entered six new destination marketing programs in the annual TACVB Idea Fair Competition and I'm so proud to announce that our team brought home top awards for all six. This is a tremendous accomplishment for our team!" says Stephanie Molina, Director of Marketing for the Beaumont CVB. "It is truly an honor for the Beaumont CVB to be recognized and voted as #1 in Texas for our ideas, creativity, and for the execution and originality of our destination marketing programs."
The Beaumont Convention & Visitors Bureau received awards from TACVB for the following categories and programs:
"Our team has worked so hard this past year in creating new campaigns and initiatives for travel and tourism to Beaumont." says Dean Conwell, Executive Director for the Beaumont CVB. "Earning these awards mean everything to our staff and pushes us to continue coming up with new, innovative ways to promote our destination."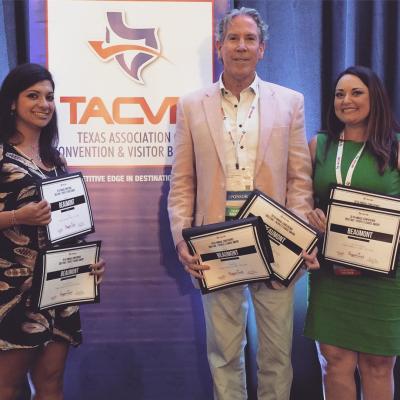 The TACVB Annual Conference allows destination marketing professions throughout Texas and beyond to come together for a week of education, networking, idea sharing and training on important travel and convention related topics. Attendees also take part in the annual TACVB Idea Fair Competition where each city presents its recent programs and campaigns created over the past year. Members vote on a winning entry for each of the eight categories including: Advertising, Convention Promotion, Web Site, Local Awareness, Cooperative Marketing, Video, Tourism Promotion and Sports Marketing.  
The Texas Association of Convention and Visitor Bureaus is the largest association of CVBs in the nation and was organized in 1972 for the purpose of providing cooperative action to enhance and encourage the growth of the convention and visitor industry in Texas.  Specifically, this is pursued by encouraging cooperation among Texas CVBs and the Texas travel industry; by maintaining standards of professionalism; by cooperating in the exchange of information between TACVB members; by developing an awareness of legislative action and unifying public relations activities and by providing educational opportunities. The TACVB website is http://www.tacvb.org/. 
The Beaumont CVB is the official destination marketing organization for Beaumont, Texas. Our mission is to entice groups, conventions and meetings to choose Beaumont as their meeting destination. These groups impact the local economy through hotel occupancy taxes and tourism dollars that significantly affect the economic development of Beaumont. Tourism dollars are "new money" brought into the local economy. 
###