The Beaumont Convention and Visitor's Bureau recently hosted the 28th Annual Hall of Fame, honoring meeting planners who chose Beaumont as their host city for meetings, reunions, conventions and sports events. With the help of the Beaumont CVB Sales Team, more than $24 million was brought into the city in 2017 from conventions and meetings.
The 2018 Hall of Fame was hosted at the newly renovated Holiday Inn and Suites Beaumont Plaza; over 160 attended including meeting planners, city dignitaries and tourism partners. Providing entertainment for those in attendance was Lanny Kibbey, a Houston-based professional magician/comedian and the Oh Snap Selfie Booth, a moving selfie picture station. 
This year's Service Industry Award, which goes to a local citizen who has shown extreme dedication to enhancing meetings and tourism in Beaumont, went to Dr. Richard LeBlanc, known to friends as "Doc." He was born and raised in Beaumont, Texas, a graduate of Lamar University and Captain in the Air Force.  Serving on many Boards in the area, such as the American Red Cross, Boys Haven, Fire Museum, YMBL, GO TEXAS and the Beaumont CVB, he continuously works hard to make sure Beaumont is the best it can be. The Beaumont CVB was proud to extend the award to such a deserving individual.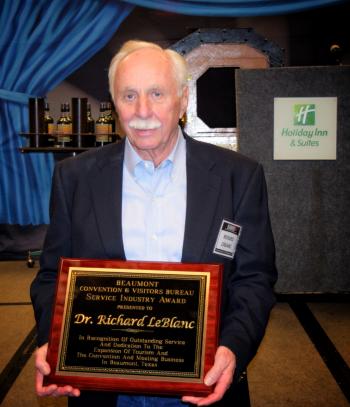 "'Doc' shows us time and again what it means to serve our community. His selflessness and willingness to do whatever it takes to make Southeast Texas a premier destination location goes unmatched," said Beaumont CVB executive director, Dean Conwell. "We are honored to have him on our Board as I'm sure many others are too."
Each year the Beaumont CVB's Convention Sales and Services Team works diligently to entice meeting planners to choose Beaumont for their convention destination. Meetings impact the local economy through hotel occupancy taxes and these overnight convention dollars significantly affect the economic development of Beaumont. Meeting attendees bring "new money" into the local economy by staying overnight at local hotels, as well as dining, shopping and paying for transportation-related expenses.
Associations and organizations of all types found Beaumont to be the ideal meeting destination in 2017. Without the work of the Beaumont CVB Sales Team to work with local meeting planners, the success of booking meeting business in Beaumont would not be possible.
For complimentary meeting planning assistance for your future meeting, convention, reunion or sporting event, contact the Beaumont CVB Sales Team at 409-880-3749 or visit our website.