Did you know that Beaumont has some home-grown delicacies that can help you to customize your convention so that your meeting in Beaumont is made-to-order? Here are three signature food concoctions to use when planning a great convention in Beaumont, Texas With A Little Something Extra.
Signature Drink
The "Beaumont Mary" is a cocktail the Beaumont CVB suggests to meeting planners to offer as a signature drink; particularly at hospitality receptions or a brunch meetings. This special Bloody Mary drink uses a local seasoning to give it our own flair. Tex Joy Steak Seasoning is one of its special ingredients to make this awesome Bloody Mary. Bonus: the Beaumont CVB offers individual packets of the "Original Blend TexJoy Steak Seasoning" to CVB convention clients as a complimentary services, with meetings and hotels booked in Beaumont. 
Beaumont Bloody Mary Recipe:
1 (46oz) can tomato/vegetable juice (recommended: V8 )
1 teaspoon of TexJoy Steak Seasoning – Original Blend
1 tablespoon Worcestershire sauce
1 lemon, juice
1 cup of vodka
Ice cubes
Celery sticks, olives, & lime wedges for garnish 
Directions:
Pour tomato juice into a large pitcher. Add TexJoy Seasoning, Worcestershire sauce, lemon juice, and vodka. Stir well. Pour into individual glasses. Serve over ice with celery sticks as stirrers. Garnish with olives & wedges of limes or lemons. Insider Tip: You can also serve this drink without the liquor and it makes a great non-alcoholic punch! Learn more about TexJoy here.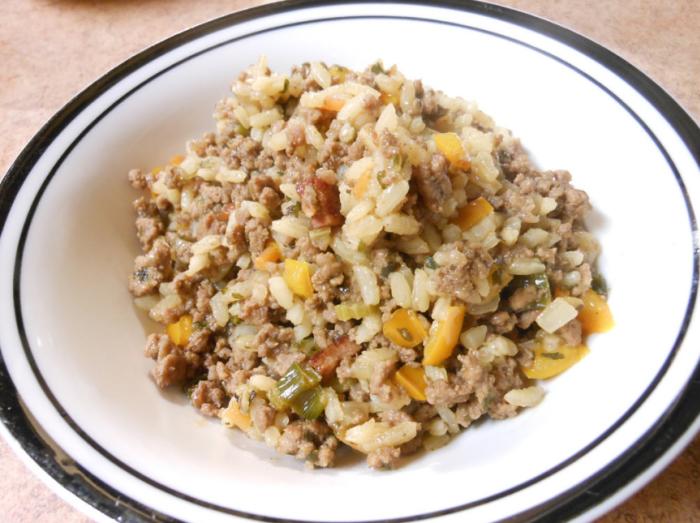 Signature Dish
With Beaumont's close proximity to the Louisiana border, a favorite signature dish to serve during your Cajun or Mardi Gras–themed banquet is "Dirty Rice." Dirty rice is a traditional Cajun dish made from white rice which gets a 'dirty' color from being cooked with small pieces of beef or chicken giblets. The Beaumont CVB uses a local farmer, Douget's Rice Milling Company, for their rice products.
Douget's "Dirty Rice Made Easy" Recipe:
1 can Cream of Celery Soup
1 can Chicken Broth
1 package Onion Soup Mix
2 cups Doguet's Rice
1 lb. ground meat (beef or pork)
Directions:
Preheat oven to 350 degrees. Brown ground meat, then combine meat with remaining ingredients in a medium baking dish. Bake for one hour, turning every 15 minutes.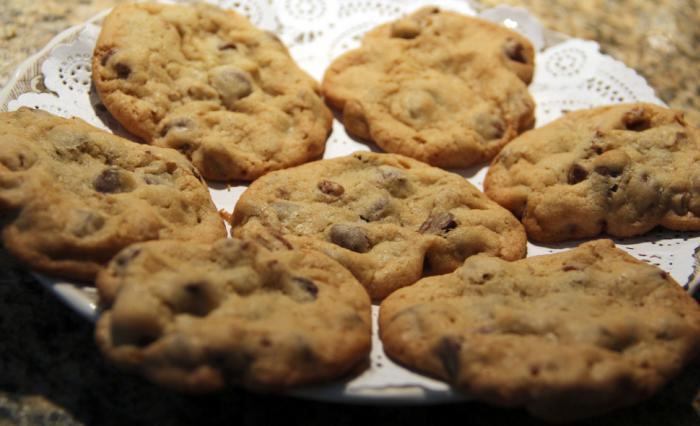 Signature Dessert
One of Beaumont's distinctive local places to eat and hold an off-site reception or lunch meeting is Amelia Farm and Market. Amelia is a locally owned restaurant where you can enjoy a true farm-to table experience as you dine on the patio or in the renovated barn/stable. This Beaumont family farm has been growing and selling pecans from their orchard since 1916. Only during the fall harvest, can the Beaumont CVB obtain a few, seasonal packages of Amelia Farm and Market's Pecans to include as a special VIP amenity for the CVB meeting clients. But during the rest of the year, Beaumont CVB recommends serving Amelia's Chocolate Pecan Cookies as your signature dessert during your meeting. 
Amelia's Chocolate Pecan Cookies Recipe:
Because these cookies use only local produce, products and farm-to table ingredients, their recipe is 'secret.' You will just have to come to Beaumont to taste this a signature dessert at Amelia Farm and Market! Better yet, contact the Beaumont CVB to find out how to take advantage of this signature dessert idea when using the Beaumont CVB to help you plan your overnight meeting in Beaumont!
To find out additional ways on how to customize your convention plus get the extra care and personalized service when holding your overnight meeting in Beaumont, Texas, reach out to our helpful and friendly CVB Sales Team at the start of your planning process.