Mildred Ella "Babe" Didrikson Zaharias presented with the AAU Gussie Crawford Lifetime Achievement Award
Zaharias becomes third athlete honored for the AAU Gussie Crawford Lifetime Achievement Award in a ceremony at the New York Athletic Club

The multi-sport star Mildred Ella "Babe" Didrikson Zaharias was announced as the recipient of the 3rd AAU Gussie Crawford Lifetime Achievement Award in a ceremony on April 16, 2019 at the New York Athletic Club. W.L. Pate, President of Babe's Foundation accepted the award on her behalf.
Babe's life was encompassed by athletics. She was accomplished in just about every sport - basketball, track, golf, baseball, tennis, swimming, diving, boxing, volleyball, handball, bowling, billiards, skating and cycling. In 1932, Babe won the national women's AAU/Olympic tryouts as an unattached athlete, with 30 points- eight points over the second place Illinois Women's Athletic Club. It has been declared to be the greatest single achievement in a series of events in the history of athletics.
She was called "Wonder Girl" by Grantland Rice after her two gold and one silver medal performance in the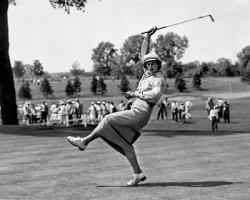 1932 Olympics. Babe eventually focused on golf, at Rice's suggestion, and went on to be declared by inaugural AAU Sullivan Award Winner, Bobby Jones, as one of the ten best golfers of all time. In her career, Babe won 82 golf tournaments, including amateur and professional. She was voted the World's Greatest Woman Athlete of the First Half of the 20th Century by the Associated Press (AP), and the only athlete to be named Woman Athlete of the Year by the AP six times.
Babe was diagnosed with colon cancer in 1953 and became one of the first public figures to openly discuss her cancer in an attempt to spread awareness about the disease. After her passing, The Babe Didrikson Zaharias Foundation, along with her husband George Zaharias, raised money for a museum in Beaumont, Texas, which was completed in 1976.
The AAU Gussie Crawford Lifetime Achievement Award is presented annually at the AAU James E. Sullivan Award ceremony and was established to honor Gussie Crawford, voted the first female president of AAU, as a trailblazer in amateur sports. The award is intended to recognize those athletes whose efforts, both on and off their playing surface on the national or international stage, have paved the way for great change in amateur sports. 
ABOUT THE AAU: The Amateur Athletic Union (AAU) is one of the largest non-profit volunteer sports organizations in the country. As a multi-sport organization, the AAU is dedicated exclusively to the promotion and development of amateur sports programs. Founded in 1888 to establish standards and uniformity in sports, the AAU philosophy of "Sports For All, Forever" is now shared by nearly 700,000 members and 150,000 volunteers across 41 sports programs and 55 U.S. districts.