Autumn Bucket List
10 Things To Do This Autumn In Southeast Texas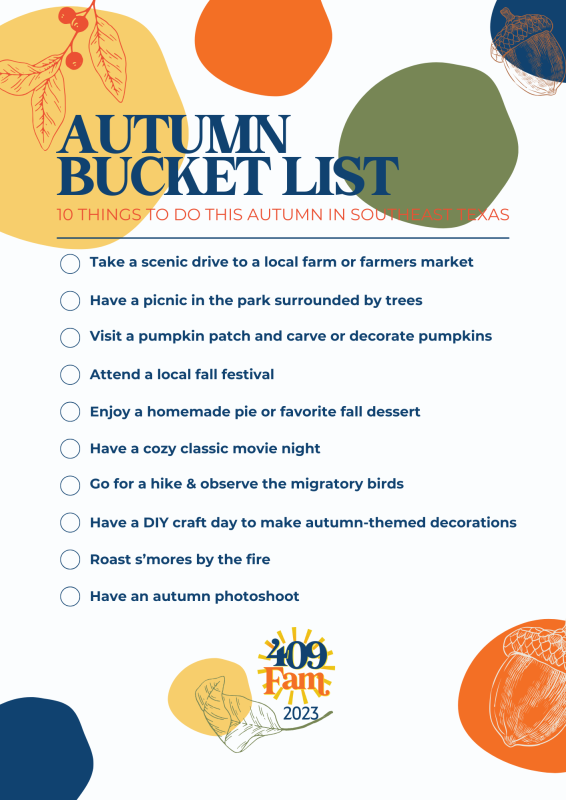 Have a picnic in the park surrounded by trees
Southeast Texas may not offer all the colors of traditional fall foliage, but makes up for it with strong, towering, shade-giving trees galore. Pick a park and enjoy a gorgeous autumn day outdoors. Picnicking under the oaks between the Main Library and the Julie Rogers Theater downtown will give the perfect fall vibes, accompanied by refreshing breezes. The Cypress trees along the Neches River set a one-of-a-kind, scenic view, making Collier's Ferry Park an ideal picnic spot as well.
Visit a pumpkin patch and carve or decorate pumpkins
A fall family picture hot spot, local pumpkin patches always offer the cutest photo ops and a plethora of pumpkins to take home. Here in Southeast Texas, some patches take it to the next level with a full schedule of activities, petting zoo additions, and even a hay maze! Take a look and plan out which pumpkin patches to visit this season.
Attend a local fall festival
This fall, there are NO shortages of fall fun and festivals happening throughout Southeast Texas. See all of the local autumn events happening thanks to the Beaumont CVB and 409 Family's event round-ups. One fall festival to not miss is Museum Madness! Appropriately named, this four-day weekend is absolute madness that everyone is invited to attend such diverse, engaging events hosted by favorite local hot spots, and most are even free admission!
Enjoy a homemade pie or favorite fall dessert
Something about a fresh baked pie instantly transports our senses into autumn. Whether baking fragrant goodies at home or treating yourself to a local bakery favorite like Rao's Bakery, Sachi's Cakes & Desserts Lab, or SuperAntojo De Hidalgo, natives know Southeast Texas food never fails the taste buds.
Take a scenic drive to a local farm or farmers market
Fall farms are now in season! Check here and plan a drive out to a local farm or a Southeast Texas farmers market this fall for fresh produce, meats, homegrown delights, and much more.
Have a cozy, classic movie night
For a timeless good time, head out to Jefferson Theater Classic Movie Nights! Themed nights, concessions, and classics we all know and love create the perfect environment to cozy up and enjoy the big picture show together.
7. Go for a hike & observe migratory birds
Cold snaps are coming, and there's no better weather for hiking in Southeast Texas. Plus, fall migration is one of the best times for birding. Plan a day trip out to the Big Thicket National Preserve, Cattail Marsh, or Village Creek State Park for the perfect autumn hike. Seek out the mesmerizing, skittish, and stunning flora and fauna all along the way.
Have a DIY craft day to make autumn-themed decorations
The Beaumont Public Libraries System can offer some assistance with this bucket list item. Each branch offers different FREE craft sessions and programs not only for kids, but also for teens, and even adults! Crochet Cafe, Pinterest Party, Krafty Kids, Little Artist Hour, mug decorating, and spooky galaxy jars are just a few of the choices offered to the varied interests of creatives and hobbyists of all ages.
Roast s'mores by the fire
If there's no firepit or bonfire nearby, Ko Korean Grill offers a unique and deliciously fun dessert experience that can help check this item off the list.
Have an autumn photoshoot
After a little shopping on the town, why not don that new cozy sweater or fall outfit for an impromptu autumn photoshoot? Grab some friends and turn it into a game with a mural scavenger hunt! Local murals add a phenomenal backdrop to any photoshoot.
Have fun & happy fall, y'all!