The Art Museum of Southeast Texas (AMSET) presents two dynamic exhibitions: tête-à-tête: Folk Art and Fine Art from the Permanent Collection, a curatorial examination of similarities and differences in how artists explore related subjects, and TERESA BAKER: shape, line, what the eye is doing, will be on view June 18 through September 4, 2016.  
An opening reception for both exhibitions will be held from 6-8 p.m. on Friday, June 24 at AMSET. 
tête-à-tête: Folk Art and Fine Art from the Permanent Collection
tête-à-tête will exhibit several pieces of folk and fine art from AMSET's growing permanent collection. The term tête-à-tête refers to a private conversation between two people. In this case, the conversation will be the visual dialogue taking place between folk and fine art pieces and their related subjects. 
Every summer, AMSET features an exhibition that is organized solely from its collection. This year, with the pairing of folk and fine art, it is the museum's hope to juxtapose the two and shed light on the connections that are established through unlikely pairings. This unique merging of two forms of art will create a conversation amongst artists, styles and media that is not always readily apparent for the viewer.
AMSET has gained significant recognition for its unique and growing collection of folk art, specifically the Felix "Fox" Harris totem sculpture gallery, which is permanently on view in the museum.
The museum's fine art collection includes several different types of artwork and media; paintings, prints, photography and sculptures from the 19th – 21st century. 
AMSET has honed its collection plan to ensure a cohesive body of work that is a reflection of the community and contemporaries. The collection is advancing with a concentration on modern and contemporary folk and fine art with an emphasis on the Texas region. Presently, AMSET's collection includes about 1,200 pieces.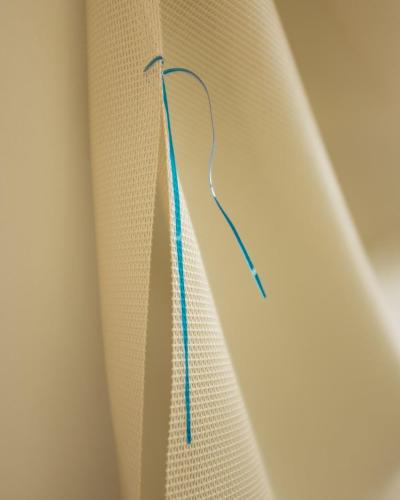 TERESA BAKER: shape, line, what the eye is doing
A sophisticated and experimental artist, Teresa Baker is relatively new to the Southeast Texas art scene. This exhibition will highlight Baker's use of textures, color and space by incorporating vinyl coated mesh and other fabrics with acrylic paint. Her process-oriented work focuses intently on shape, color and line while creating pieces that have been stripped down to their most vital elements. 
shape, line, what the eye is doing is Baker's first museum exhibition in Southeast Texas, but she is no stranger to exhibiting her artwork. She has exhibited widely on the west coast, and is the recipient of numerous awards and residencies. Two of her most recent artist residencies include: The MacDowell Colony in Peterborough, New Hampshire (2015) and Headlands Center for the Arts in Sausalito, California (2014-2015). She also participated in a notable painting and drawing intensive at the reputable Gerrit Rietveld Academie in the Netherlands.
"The new body of work I am showing at AMSET was made during my time living here in Southeast Texas. It is an investigation into the vinyl coated mesh material, often times through the slightest manipulation of folding, cuts or minimal marks of paint or fluorescent vinyl- highlighting the materials properties," said Baker. "Focusing on color, shape, size and texture, I make with the intention that the object cannot be completely identifiable in the end, but instead creates its own world where details emerge slowly as the viewer spends time with the pieces."
For more information on the exhibitions or reception, visit www.amset.org or call (409) 832-3432.