Rarely does the temperature in Beaumont drop below 40 degrees, much less get cold enough for SNOW, but on December 8, 2017, the majority of southeast Texans woke up to a glorious winter wonderland. Social news feeds were blowing up with pictures of snowmen, snow angels and the ever so wonderful snowball fight!  Each of us could depend on a text from at least one family member (or an excited phone call) to make sure we were fully aware of the snow and up to see it before it melted away.
As the sun peeked through the clouds, the remnants of our snow-filled morning dwindled. Albeit short-lived, Southeast Texans were delighted by a morning of full of fun with family and friends, playing in the snow. This rare December snow helped us all remember what the holidays are about, appreciating the moment and spending time with those we hold dear.
While enjoying this amazing weather, the CVB staff wanted to see what some of our favorite attractions looked like with a blanket of snow. So, with a cup of coffee in one hand and a camera in the other, mother nature provided us with a flurry of breathtaking views. Enjoy!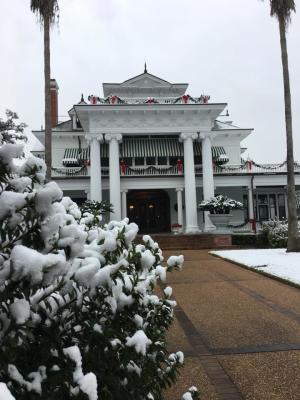 As a Beaumont destination staple, the McFaddin-Ward House is a sight you must see. The 12,800 square-foot historic home is a Beaux Arts Colonial Revival style house owned by the McFaddin-Ward family for 75 years. The three-story home has been restored to the period 1906-1950 when the McFaddins and Wards lived in the home. With its four massive columns and colonnade-lined porch, the house graces a full city block. Tours are docent-led Tuesday - Saturday and first floor only on Sundays. Make sure to call ahead and schedule a time to see this beautiful home.
Near the original Spindletop site, Gladys City, founded in 1892, quickly became a bustling factory town for wildcatters to buy leases and live while tapping i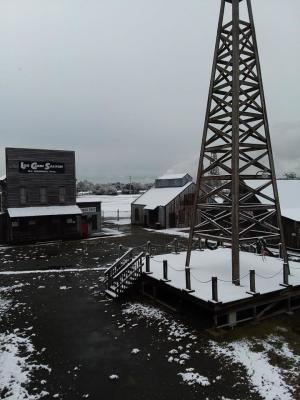 nto the Spindletop oil boom. In 1975, a replica of the Gladys City Boomtown was created to preserve the city's bustling beginning. 
Browse around the town - which includes a post office, saloon, general story, livery, working print shop and working replica gusher. On occasion, you can also see re-enactments of life during the oil boom at Spindletop-Gladys City Boomtown Museum. Capture the magic of this boomtown on a self-guided tour, open from Tuesday - Sunday.
Built in 1906 by a local lumberman, the house was sold to the Chambers family in 1914. C. Homer and Edith Fuller Chambers moved into the home with their two young daughters, Ruth, 11 and Florence, 16 months old. The daughters both returned home and never married after college, living in the home until their deaths. Few changes occurred to the house or it's furnishings in nearly 90 years of Chambers family occupancy.
The collection inside contains nearly all of the original family furniture and artifacts, most dating to a 1924 remodel. Very little was thrown away and they rarely purchased anything new. A truly unique tour awaits anyone wishing to see how an upper middle class family lived life during the 1920's through 1940's time period. Tours are from Tuesday - Saturday.
Built over 100 years ago, St. Anthony's is one of the most resplendent houses of worship in the southwestern United States. In 2006, Pope Benedict XVI elevated the church to an honored title of Cathedral Basilica, recognizing the historic, artistic and religious significance of the site.
The intricate interior is breathtaking with beautiful artwork, murals and gorgeous light. The basilica is a destination that needs to be seen when you are visiting Beaumont. Guided tours can be made by appointment Monday - Friday.
Cattail Marsh includes 900-acres of scenic wetlands along with a boardwalk that features two covered platforms, providing access to incredible views of the wetlands' abundant wildlife. Originally constructed in 1993 by the Beaumont Public Utilities Department as the final phase of Beaumont's wastewater treatment system, this natural and innovative process has attracted the interest of environmentalists and wildlife professionals from across the state.
Today, Cattail Marsh is a wildlife refuge for a variety of aquatic mammals and more than 250 species of birds annually, including: pelicans, egrets, roseate spoonbills, ducks, ibis, doves and red-winged blackbirds. More than eight miles of gravel levee roads are found within the Marsh and allow for a variety of recreational activities, including jogging, biking and horseback riding. Open all year except City of Beaumont holidays.
This 23.5-acre garden of ever-changing beauty is  located near the entrance to Tyrrell Park, a 500-acre City of Beaumont Park. A paved Friendship Walk offers excellent views of the various theme gardens, as well as providing easy access for strollers and wheelchairs. Benches along the way invite visitors to rest a moment and "take time to smell the flowers." The Botanical Gardens are a treasure to our area and a "must-see" when visiting. Hours coincide with Tyrrell Park hours from daylight to dark every day.