Registration is the first point of contact with your meeting attendees and a smooth check-in process keeps excitement levels high and sets the tone for a great event.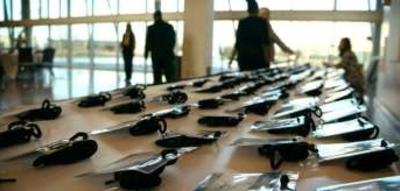 Straight from the Horse's Mouth
Create your registration form that requests ALL the information needed for Name Badges during your registration procedures. When the attendee provides their own contact details & any other information needed directly through the registration process, it saves you time and improves accuracy. Whether this is done manually or even better through an electronic software program, this registration step is critical to gathering all the pertinent information needed to print out your name badges.
TIME SAVER: The printing of Name Badges is one of the complimentary services offered by the Beaumont CVB to their meeting clients, provided they have over 100 sleeping rooms booked through the Beaumont CVB.  Clients need to provide an Excel spreadsheet with each of your attendee's contact details which can be given to the CVB at least 6 weeks prior to the meeting occurrence.
More is Better
When it comes to the registration area at your conference, avoid long lines by having more manpower working your registration tables. At a bare minimum, there should be two registration check-in personnel at each registration desk. One suggested rule of thumb is to have at least one registration attendant per 75 guests and one floater per 150 guests. In addition, have another floater who can answer attendees' questions with the most up-to-date details regarding meeting sessions, workshops, banquet, tours, & other meeting specifics.
TIME SAVER: The Beaumont CVB can help link the meeting planner to local resources and vendors to help increase staffing at their registration tables.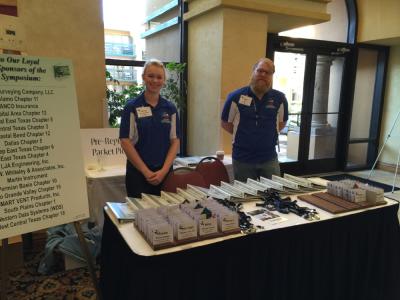 Divide and Conquer
Alphabetize your meeting's check-in stations and create multiple registration stations to move people forward faster. Divide registration tables into several sections, alphabetically by the first letter of attendees' last name. Try to distribute the alphabetical sections evenly so that roughly the same number of event attendees will be checking in at each table. Each alphabetically separated registration section should have at least 1 eight-foot table that can seat two attendants. Some conferences may need separate sections for preregistration, exhibitors, speakers, ticket purchases, and badge corrections. Don't forget to include separate tables as a workspace & storage of registration supplies. Sometimes these work tables with extra supplies are best behind the check-in counter or registration desks.
TIME SAVER: For meetings that book over 200 sleeping rooms, the Beaumont CVB may provide the client with customized registration supplies such as badge ribbons with appropriate designations as part of the CVB's complimentary convention services.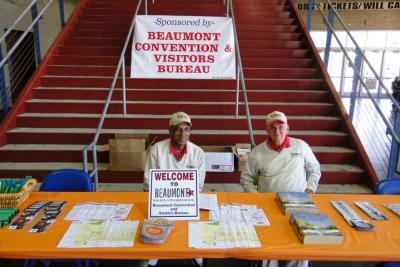 Spread Out
Consider moving swag bags, generic promotional gifts, or program books to another station/table nearby to help speed up the registration process. Be sure amenity bags are organized the day before registration starts. Set up the amenity gift bags on row of tables and have extra volunteers to man this station. Moving attendees from station to station will help speed up the check-in process. Don't make your event registration staff do everything at check-in. Having distinct stations spreads out the congestion throughout the overall registration area.
TIME SAVER: The Beaumont CVB offers a Welcome Table manned with Beaumont CVB volunteers to clients that book over 200 sleeping rooms as part of their conference. These volunteers greet out-of-town guests, serve as a source of local information, and distribute our visitor guides, maps and area brochures.
Follow the Signs
Post large signs throughout the venue, directing visitors from the front door to your registration area. Budget for a series of signs that can be placed on easels so attendees can follow the signs easily. Utilize both table-top signage and whenever possible, overhead signage to help direct attendees to the appropriate registration section/table.
TIME SAVER: To supplement the client's directional signage, the Beaumont CVB offers a customized Welcome Banner for conventions booking over 100 sleeping rooms, that shows your attendees a special greeting from Beaumont, Texas With A Little Something Extra.
It takes planning, budgeting and extra personnel to have a streamlined meeting registration experience.
Create a simple registration form to facilitate your check-in and name badge processes.
Make use of signage with alphabetized check-in tables.
Have swag ready to go and utilize your space with multiple stations.
Supplement your registration efforts with guidance and assistance from the Beaumont CVB by reaching out to the Convention Sales and Services Team at the initial planning stages of booking your overnight meeting in Beaumont Texas. Contact us today to get started by calling the Beaumont CVB office at 409-880-3169 and ask to speak with the Convention Sales Staff or reach out to us online.