The idea of hiking with your tiny humans can seem daunting and overwhelming, but getting outside as a family is a wonderful way to slow down, connect, and recharge, all while exploring the incredible hiking trails, ecosystems, and natural features that make Southeast Texas so unique and diverse.  
General Rules for Hiking with Kids
If you're toting kids along, hiking and nature exploration isn't always the joy you imagine it would be. Factors like the length of the trail, terrain, weather, and temperature, are always important. The old saying, "fail to plan, plan to fail" rings true when exploring and adventuring, whether you have toddlers or teens. Making sure you're prepared before you ever set foot outside the house is key!
Snacks: Maslow's Hierarchy of Needs comes to mind, and kids (like adults) require that all their needs be met before they can begin to enjoy, learn, and be the natural delights that they are. Have them eat a filling meal before you head out, and make sure you pack a variety of snacks and plenty of water for the trail. Having a variety of different types of snacks helps kids feel like they have some control over their choices, especially if you have a reluctant hiker who would just rather not be enjoying the great outdoors. 
Fun: Keep things engaging with simple games like "I Spy", making up a scavenger hunt as you go, or even setting up races that require them to take notice of interesting features, i.e. "Race you to that pitcher plant!" If you're already schlepping snacks, water, bug spray, and all the outdoor essentials, you don't want to be carrying cards or games as well. So quick games that don't require any tangible materials will save your back and sanity while also rescuing them from any boredom or reluctance.  
Choosing the Right Trail: Thankfully, our local terrain is all fairly easy for little legs, with no significant changes in elevation or substrate. However, depending on the age of your kids, trail length is important. Also, consider the distance from your home or starting point, and also what other features are going to be available at the location of your hike. 
Our Favorite Trails for Family Hikes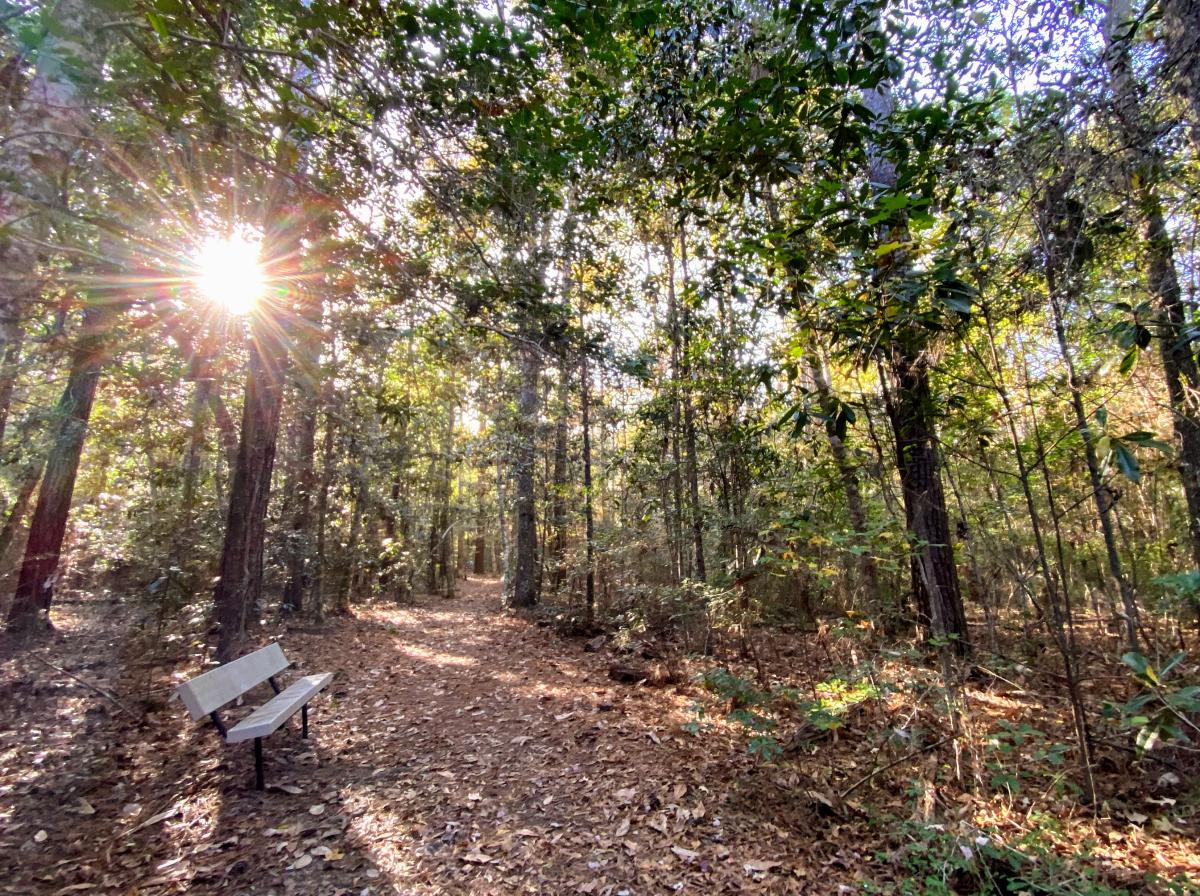 Kirby Nature Trail - Big Thicket National Preserve
1618 FM 420, Kountze, TX 77625
If you're new to hiking, or exploring Southeast Texas for the first time, the Kirby Nature Trail located inside the Big Thicket National Preserve is a must-see! Big Thicket claims the distinction of being America's First National Preserve and is home to at least nine different distinct ecosystems, making it one of the most biodiverse areas on the planet. The shaded inner loop of the Kirby Nature Trail is approximately 1.5 miles of majestic cypress trees and knees, swampy baygalls, thick forests, and more. There is an outer loop that clocks in at just 2.5 miles and offers all the beauty and sights of the inner loop with just a little extra. The trail is mostly hard-packed earth, but there are several wooden boardwalks scattered throughout. Watch for tree roots and dips - another opportunity for a fun game for your kiddos to spot them and hop over! Download a trail map here.
Make sure you visit the Big Thicket Visitors Center.  Your little ones can complete the Junior Rangers requirement by visiting the exhibits and getting sworn in all in an hour or less!   

Water Oak Trail - Village Creek State Park
8854 Park Rd 74, Lumberton, TX 77657
Village Creek isn't short on hiking trails of all lengths and difficulty, so you've certainly got your pick of things to do inside the park! For an easy option that gives you a nice overview of the natural features located inside the park, we like the Water Oak Trail. This trail is approximately 1.7 miles roundtrip and features yucca and prickly pear cacti growing right next to swampy cypress and tupelo. The trail is even and hard-packed, but use caution if it has been raining.  
If you have tiny humans just learning how to be explorers, check out the 0.1-mile Lil Paws Nature Trail just off the playground area. 
Download trail maps here.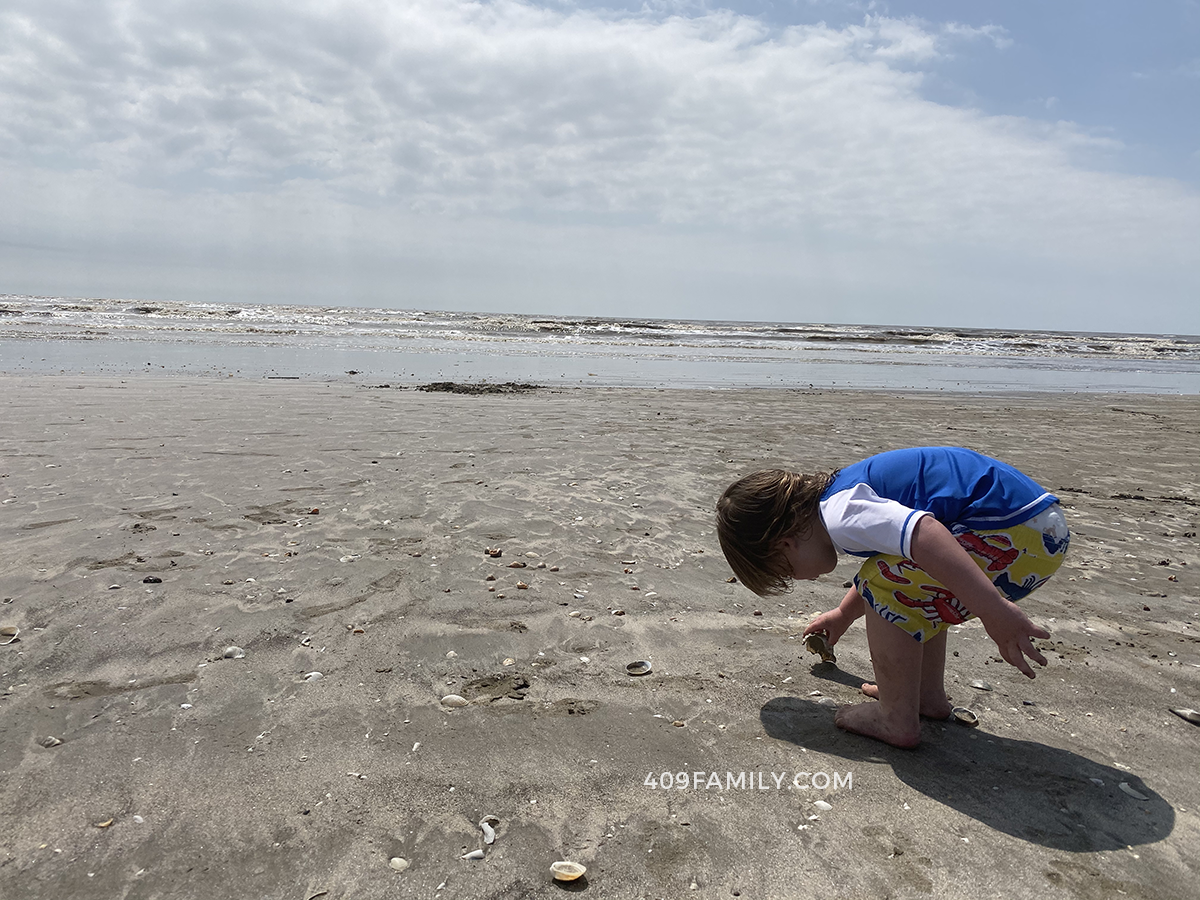 Sea Rim State Park
19335 S Hwy 87, Sabine Pass, TX 77655
Although not a traditional nature trail, this is a favorite due to the variety of activities available inside Sea Rim State Park. A fascinating landscape that will enthrall your family, Sea Rim State Park offers more than 5 miles of Gulf shoreline while also featuring over 4,000 acres of marshlands. Your kids can frolic in the waves, collect sea shells, and chase the gulls on the shore, or simply turn around and explore all of the wildlife and biology that the tidepools and marshlands have to offer. People tend to flock to the free public beaches, so the small entry fee (Adults $3, Children 12 & younger are free!) means that even on a gorgeous summer day, there's a good chance you'll have an entire stretch of beach to yourself. Another perk: low traffic makes the shells on this beach top-notch!  
Tip: Make sure to pack your bug spray. Alligators are a common sight inside the park, but gators are not usually a nuisance and there has not been an incident in a number of years. Still, be sure to review alligator safety tips with your kids.  
For more family fun, be sure to visit 409Family.com!