The Sabine Area Restaurant Association has named Charles Duit and Debbie Bando-Duit as its 2018 honorees for 35th Taste of the Triangle, Feb. 13 at the Beaumont Civic Center. The annual fundraiser showcases the diverse cuisines of Southeast Texas and benefits local charities as well as support students in the hospitality and food service industry.
In what has become a Fat Tuesday tradition in Beaumont, over 40 area restaurants will be serving up everything from Italian, Cajun and Thai, to country classics and soul food, in a festive Mardi Gras atmosphere. Beverage companies will offer wine and craft beer. This year includes an outdoor beer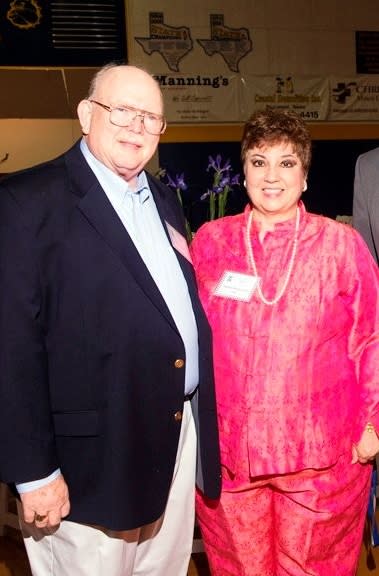 garden with live music from Curse and The Cure.
Recording artist Paul Childers will perform on the main stage. The 22-year-old singer/songwriter from Nashville is known for his blend of pop, R&B and soul and a guitar sound compared to Stevie Ray Vaughn.
General admission tickets are $25, and VIP tickets are available. For $100, two ticket holders can avoid the lines with early admission and VIP parking.
Each year, SARA honors a chef, restaurant owner or culinary enthusiast who is dedicated to serving and promoting the local food industry. Charles Duit and Debbie Bando-Duitt have been married for 15 years and are both Certified Executive Chefs by the American Culinary Federation. "Charles and Debbie are both exceptional people," said Jay Jenkinson, president of SARA. "They both give a lot back to the community."
SARA planned to announce the selection of the Duits as honorees at its annual President's Dinner set for January 16, but the event had to be cancelled due to icy conditions across the area. Instead, the SARA board members and the Bando family set up a surprise for the couple at Debbie's restaurant, Bando's.
"This is an unbelievable honor," Debbie said. "I'm very flattered. We just give back as we can." Charles said the honor was a total surprise.
"SARA does so much to promote the community," Charles said. "Everyone who goes out to eat is our clientele. We have to give back to those who support us."
"Charles has made such a difference in our program, he is always so generous," said SARA board member Molly Dahm. "And Debbie always steps up for our program. She never holds back."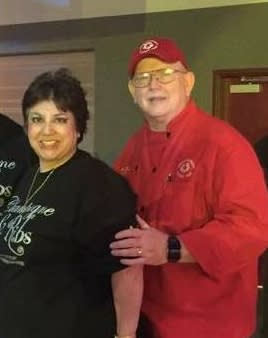 Charles has been a chef instructor at Lamar for 19 years as well as foodservice director at Calder Woods Retirement Village. His professional certifications include Approved Culinary Examiner by the American Culinary Federation, Certified Dietary Manager and Certified Food Protection Professional by the Dietary Manager's Association. Both the Golden Triangle Chef's Association and the Texas Chefs Association have named Charles as Chef of the Year. GTCA awarded him Educator of the Year in 2017.
GTCA named Debbie as Chef of the Year the same year. She is a member of the American Academy of Chefs, the honor society of the American Culinary Federation. Debbie received the American Culinary Federation's Cutting Edge Award in 2012.
The Beaumont native grew up in an Italian home surrounded by good food and good cooks. Through her outgoing personality and tenacity, Debbie opened Bando's in 1982, a café and catering company in Beaumont. Today you can find Debbie providing her delectable fare at nearly every wedding, birthday, corporate dinner or special event in the city. She is also a founding member of Chaine des Rotisseurs, a food and wine society, in Beaumont.
All proceeds from Taste of the Triangle benefit the Lamar University (LU) Hospitality and Culinary Arts majors, YMBL Livestock Auction Benefiting Area 4-H Students, YMBL Babe Zaharias Special Olympics and Southeast Texas Food Bank.
For discounted hotel rates and more on the event, visit our website.