The 2nd Annual Beaumont Mural Festival is not done yet! After a successful weekend of art, food, fun, and music the festival has been extended to one additional mural and event. Join Pour09 Bar and Rooftop and Beaumont Mural Festival creators at Pee Wee Motors (6520 College Street, Beaumont, Texas 77701) on Saturday, March 25, 2023, from 3:00 p.m. – 9:00 p.m. for live music, food, mural time-lapse video, and more.
Artist Drew Merritt (@drewmerritt), based out of Los Angeles, California, has taken the task of completing one of the three largest murals in the state coming in at roughly 10,000 square feet located at 1600 Cedar Street Beaumont, Texas 77701. His project "Genesis," pays homage to the biblical text of Genesis 1:1 and 1:2 as well as the ancient creation stories from around the world. Estimated to take roughly three weeks to complete, Merritt is working around the clock to finish his masterpiece. Along with Merritt, artist Dominic Nieri (@wiseknave) is assisting with the project.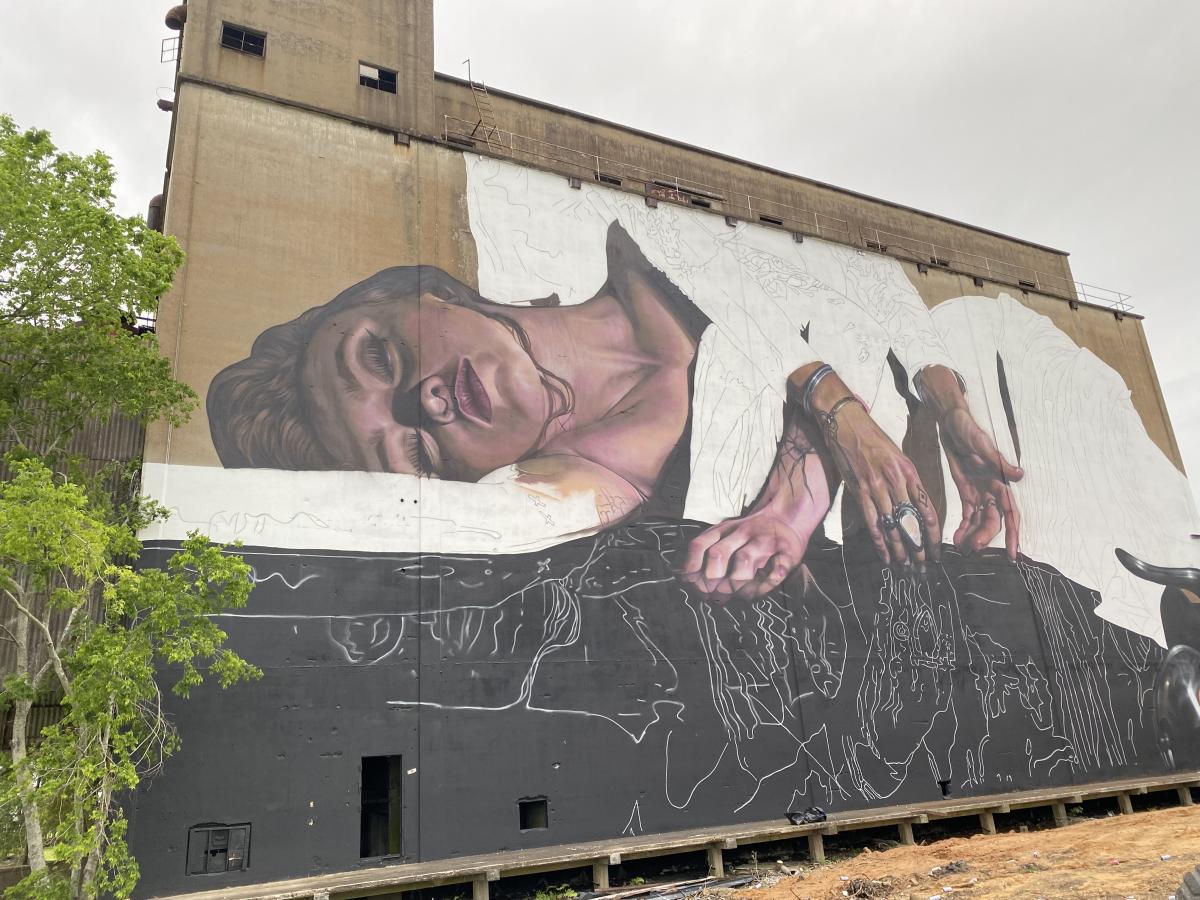 Born on the outskirts of Clovis, New Mexico, Drew Merritt grew up working on a farm, which is also the starting point of his career as an artist. Drew often plays with the idea of contrast and conflict by placing classical subjects in contemporary settings. His vivid palette evokes a broad spectrum of emotions ranging from pleasure to isolation. Merritt aspires to guide his audience through a world of emotions by evoking empathy. His works' themes convey a clear visual biography: audiences can imagine the stories behind them, and therefore can come to comprehend the way they are created.
"We are so thankful to have Drew here to complete the last mural for the 2nd Annual Beaumont Mural Festival, said Beaumont CVB Director of Marketing, Christina Lokey. "This festival produced over 20 murals and projects that the community and visitors can enjoy. Drew's mural, "Genesis," is going to be the cherry on top for an awe-inspiring festival."
Community members and visitors are invited to attend the Beaumont Mural Festival Finale Event at Pee Wee Motors on Saturday, March 25, 2023. The event is free to attend from 3:00 p.m. – 4:30 p.m. and will have a cover of $10 from 4:30 p.m. – 9:00 p.m. Entertainment includes Kumbion Zelecta, Branda Reelecta, and Tri-City DJs featuring DJ Akinbadd and food vendors, Taqueria y Antojeria Ohana and The Taste of Texas Tex-Mex BBQ.
Please see attached documents, follow @visitbeaumonttx, @bmtmuralfest, and @pour09setx social pages, for more information.