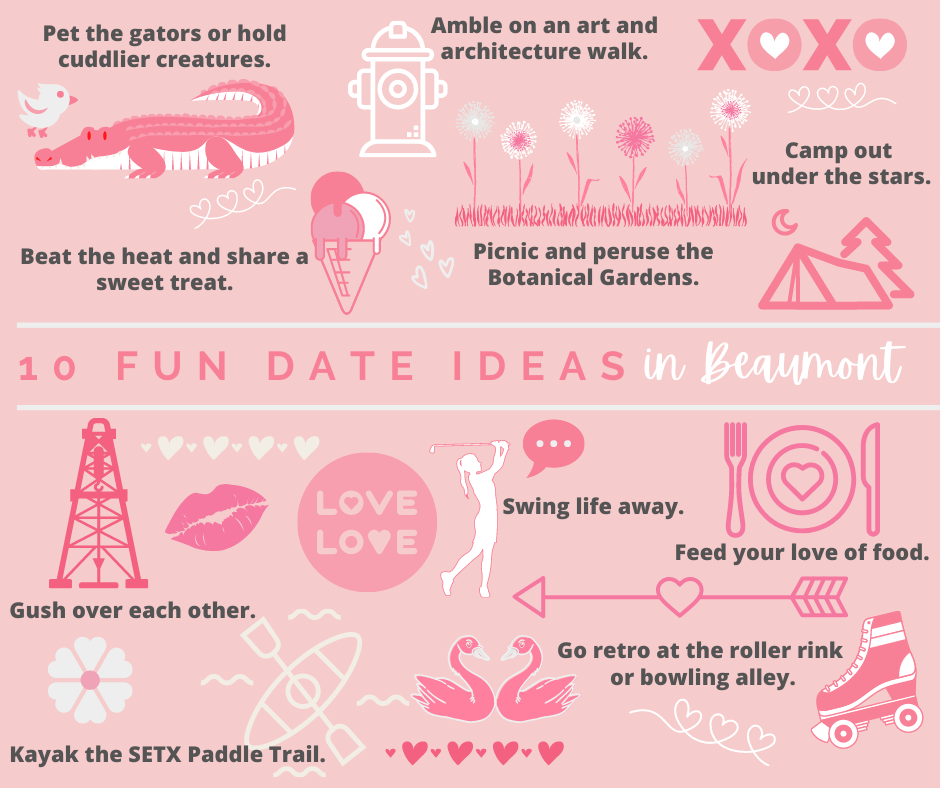 1. Pet the gators or hold some cuddlier creatures at Gator Country (pro tip: they also have crawfish nights now!)
2. Beat the heat and share a sweet treat. Sachi's Cakes and Desserts Lab, La Real Michoacana, and Mabel's are a few of our favorites!
3. Amble on an art and architecture walk downtown and cheers with a beer at Pour Brothers Brewery.
4. Oil wishes and Spindletop kisses - gush over each other and take some fun photos with the old Boomtown backdrop at Spindletop-Gladys City Boomtown Museum.
5. Picnic and peruse the Beaumont Botanical Gardens before catching a sunset at Cattail Marsh Wetlands Education Center.
6. Camp out under the stars at Village Creek or Sea Rim State Parks.
7. Swing life away at 5 Under Golf Center – loser buyers drinks.
8. Kayak or canoe the SETX paddle trail (singles or doubles are available for rent at Big Thicket Outfitters depending how well you get along).
9. Act like kids again – play putt and laser tag at Colorado Canyon, go bowling at Crossroads or lace up and go retro at Manning's Texas On Wheels Roller Skating Rink.
10. Find your love of food. Splurge on a special dinner at Finch Hutton BMT or Suga's Deep South Cuisine & Jazz Bar or get messy with a boil at Crazy Cajun Beaumont or Rock'n crab.