The Summer Games for All
RESCHEDULED TO: Saturday, July 17, 11-5 pm
Downtown Beaumont at The Civic Center (701 Main St. Beaumont)
Beaulympics (Beaumont's Olympics) are the summer games for all. A one-day extravaganza of games, music, and entertainment, each ring represents a different theme of events with a Cajun twist. Many activities will be available all day to play at your leisure, and there will also be a schedule of featured competitions and headline events you don't want to miss.
For each activity, you'll have the opportunity to earn Beau-bucks you can trade-in for prizes like at a carnival. Whether you choose to watch or participate, earn swag or just let loose and enjoy the festivities, it's a day of free fun for the entire community.
All games will be FREE, food, drink and other activities (like a dunk tank) will be available for purchase.
How It Works
Each ring represents a different theme of events in the categories of food/drink, kid-friendly, active/adventure, art, and Cajun culture. There will be family-friendly, oversized lawn games, a fun zone (kiddie obstacle course with the noodles and inflatables), and a bubblepalooza (bubble pools) available all day for anyone to use (unmanned – play at your own risk) + headline games and competitions on the Main Stage.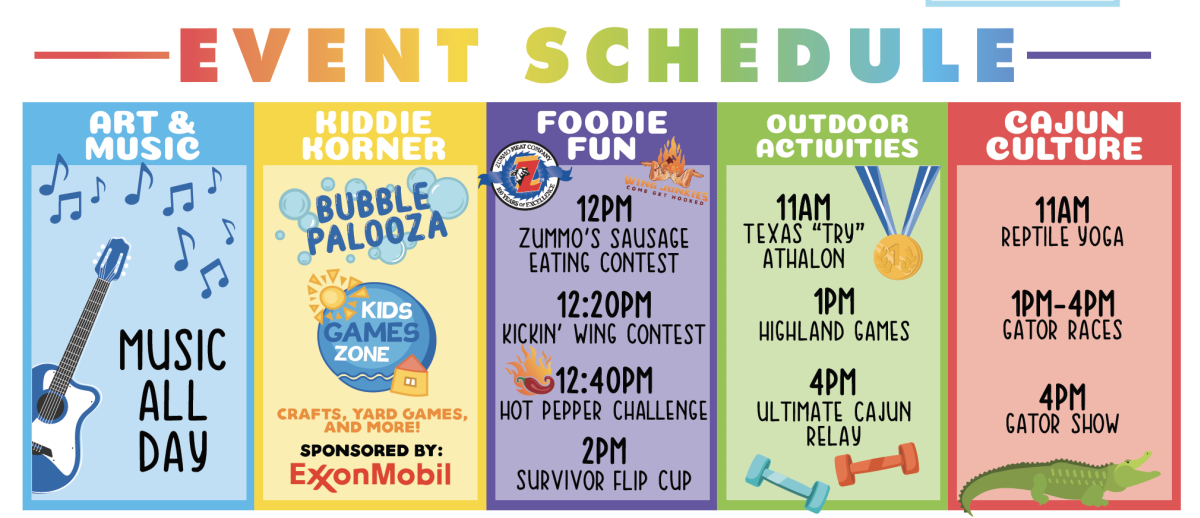 Headline Attractions
Gator Races (1-4 pm) – Run by Gator Country
Four gators will race at a time. Anyone can participate by betting on which colored creature think will cross the finish line or escape the circle first. Pick the winning gator? Win Beau-Bucks.
Reptile Yoga (11 am) - Run by Gator Country
You've seen goat yoga, but we're about to blow that out of the water. Have you ever thought to practice your downward dog with snakes, bearded dragons, and turtles? Better find your zen place.
Sausage Eating Contest (12 pm) – Sponsored by Zummos and Spindletop Cruisers
Think you're the sausage king of SETX? Eat as many Zummo's party time sausages as you can in a set amount of time.
Wing Eating Contest (12.20 pm) - Sponsored by Wing Junkies and Spindletop Cruisers
Want to claim the title of wing king of SETX? Get fired up!
Hot Pepper Eating Contest (12.40 pm) - Sponsored by FAVOR
King of spice? Can you take the heat? Prove it! 
Highland Games Demo (1 pm) - by Beaumont PD
Did you know our police department competes in regional Highland Games? Yup, kilts and all. Come see their feats of strength and learn some of the games.
Survivor Flip Cup Tournament (2 pm) - Run by Pour Brothers
Think you're the best flipper around? Outlast the competition.
Ultimate Cajun Beer Relay (4 pm) - Run by Del Pappa, Giglio & Pour Brothers
Beer in hand relay? You bet. Sink a putt, make a toss and roll your keg to victory.
The Texas "Try"athalon (11 am) 
Walk, crawl, or run to the finish line with three Cajun-fied challenges where unathleticism is rewarded and participation trophies are coveted. Gator costumes may or may not be involved.

Prizes
For each activity, you'll have the opportunity to earn Beau-bucks you can trade-in for prizes. Everything is completely free. The more you play, the more you win!
Example Redemptions:
$25 Beau-Bucks – Kid's Shirt
$50 Beau-Bucks – Mug
$75 Beau-Bucks - Adult T-Shirt
$100 Beau-Bucks - Arctic Tumbler
Make it a Long Weekend
Hotels Start at Just $92/Night
With our special summer packages, not only will you get a crazy discounted hotel rate, but you'll also get a welcome bag at check-in with fun summer swag and a printed guide to help you plan your trip from featured local restaurants to standout area attractions. That's right, an amazing weekend getaway for less than $100/day through August 31, 2021. Book Now!
Participating Hotels
Explore By Theme