Mural and Art Photo Tour
(Recommended Ride Time: 2 hours)
Grab your camera and get ready to pose because downtown Beaumont is brimming with art! From signature sculptures to colorful murals, there are plenty of Instagrammable moments and backdrops for an easy photo-centric ride that'll leave you with plenty of pictures and memories.
Click anywhere on the map below to open the directions in Google Maps on your phone!
This Route Starts at the Beaumont CVB

1. "Birds and Bikes" Mural at the Beaumont CVB - 505 Willow St.
Painted by beloved local artist Ines Alvidres with the help of the community, this is a tribute to two things Beaumont prides itself on.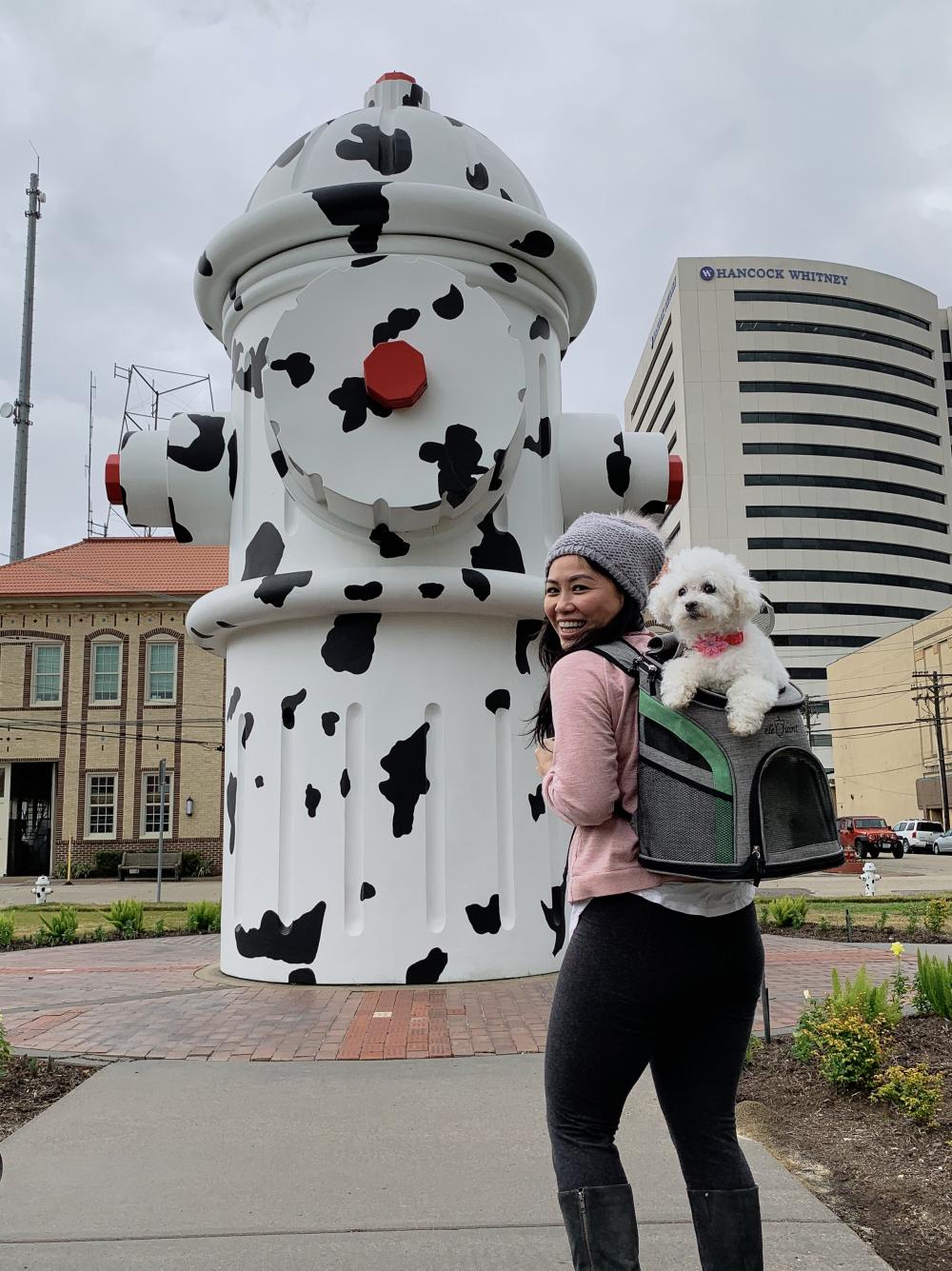 2. The Fire Museum of Texas - 400 Walnut St.
A 24-foot spotted fire hydrant is hard to miss and a quirky spot to photograph your family or favorite four-legged friend. It stoically guards the entrance to the Fire Museum of Texas, which was donated by Disney to celebrate the rerelease of 101 Dalmatians. Just make sure you use the wide angle because this thing is tall!

3. Crockett Street - 200 E. Crockett St.
Downtown Beaumont's former entertainment district, Crockett Street, is another ode to a bygone era. With five beautifully restored buildings listed on the National Register of Historic Places, throw on your best hoop skirt and channel an early 20th-century vibe. Try different poses in front of the various facades or under the entrance arch.

4. The Byrd Law Firm - 448 Orleans St.
Downtown's largest piece, this massive lady Justice was created during Mural Fest, by two artists who had never even met before, @w3r3on3 and @kimieflores.

5. The Downtown Murals - 660 Fannin St.
What's better than one mural? Five backdrops back to back. Head to 660 Fannin Street to see Frida Kahlo painted by Kimberly Brown, a mermaid by Micky Mitchell, and the dragonfly by Betty Smith, three local artists in partnership with The Art Studio, Inc.  Two more were added during Mural Fest, a tribute to legendary local musician Barbara Lynn painted by Krystal Cooke, who wanted to bring more attention to underrepresented female artists and a whimsical angel tiger by Paul Garson. Try different poses that mimic the lines in the pieces to capture movement and motion. You'll want to color coordinate so bring a few changes of clothes and/or props to mix it up.

6. Pour Brothers Brewery - 585 Wall St.
A flowchart of brewing, this new punchy and colorful piece adorns the outside of Beaumont's first craft brewery. A huge biergarten, grab a pint as you learn about the beer-making process from grain to glass.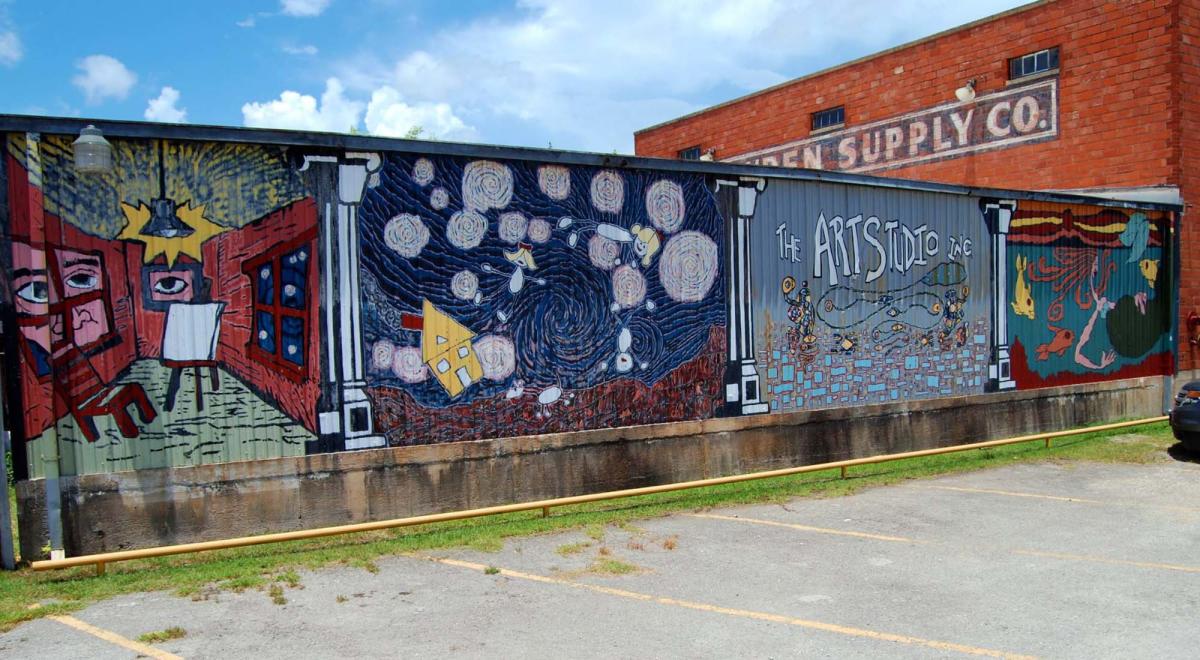 7. The Art Studio, Inc. - 720 Franklin St.
A non-profit, co-working space for artists to rent and exhibition hall, The Art Studio is both a hangout for creatives and a space to showcase their work.The exterior is adorned with art and graffiti and they regularly hold community classes if you're looking to get expressive.

8. "You are the Best Things About Me" Mural at the Beaumont Civic Center - 701 Main St.
Painted by Summer Lydick, this uplifting lyric from Irish rockers U2, adorns the Civic Center, the heart of the Beaumont community. Bono called the song an attempt at "defiant joy" despite difficult times, which is pretty relatable if you ask us.

9. Art Alley - 308 Orleans
Created during Mural Fest, these four nature-inspired pieces celebrate Beaumont's ecotourism initiatives and were painted by @brittpaintsalot (butterflies),@itscandykuo (deer), @manwithpencil (pelican), and @everydayresearch (birds). The exterior of the building was also given a colorful facelift by @slokeone and @helena_paints (flowers)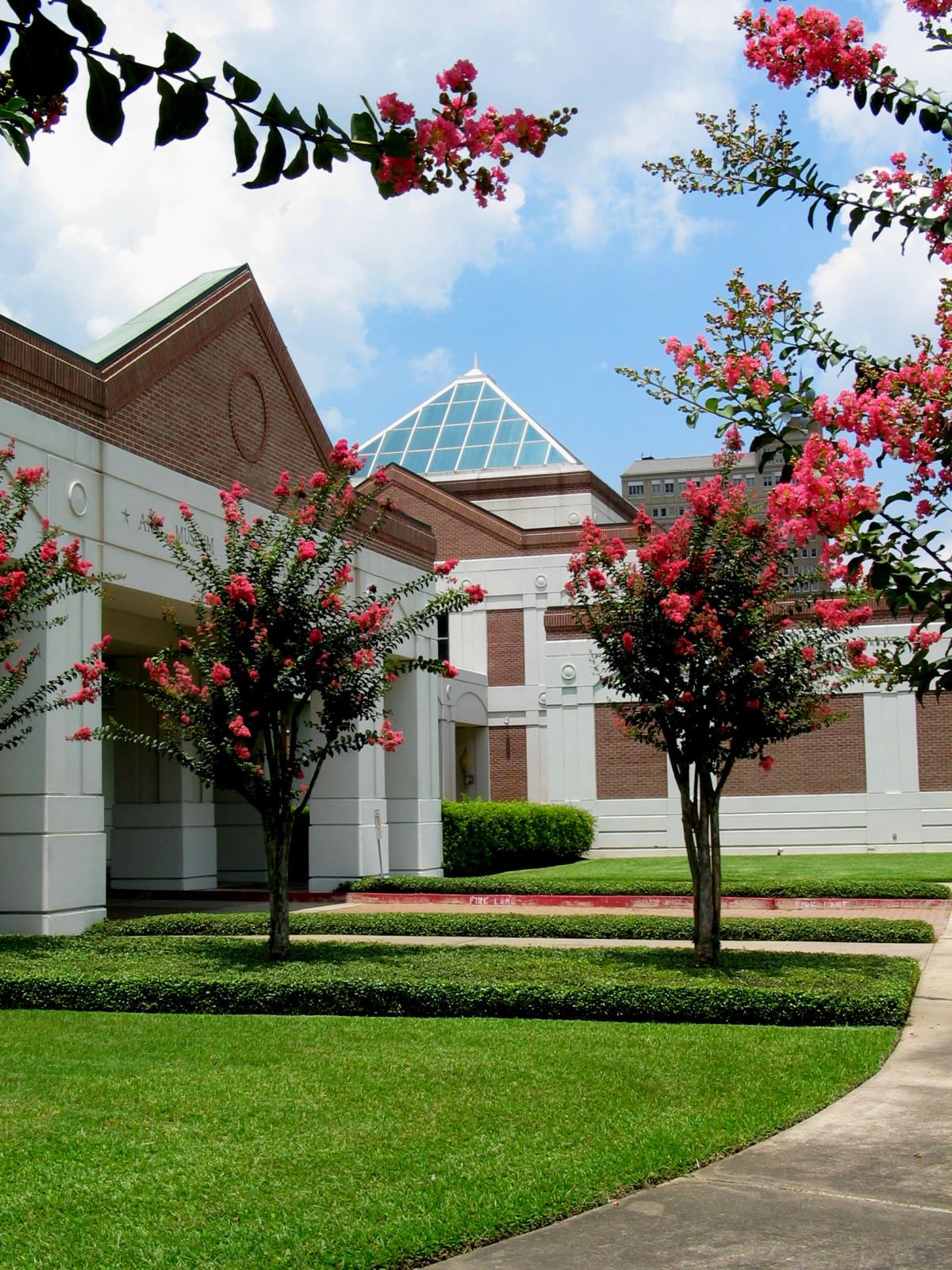 10. Art Museum of Southeast Texas (AMSET) - 500 Main St.
Spend the rest of your afternoon admiring the art inside the FREE AMSET Museum, a gem of downtown. Home to an extensive and growing permanent collection, unique rotating exhibits focus on regional fine and folk art from the 19th - 21st century. Peruse the free exhibits and snap a vision with the sculptures outside, the "Men of Vision" by David Cargill is especially notable.
Pro Tip: Sometimes there are even paper mache dinosaurs on the lawn of the Energy Museum across the street!
Return your bike to the station at the Civic Center across the street!
If You Have More Time... You May Also Want to Check Out: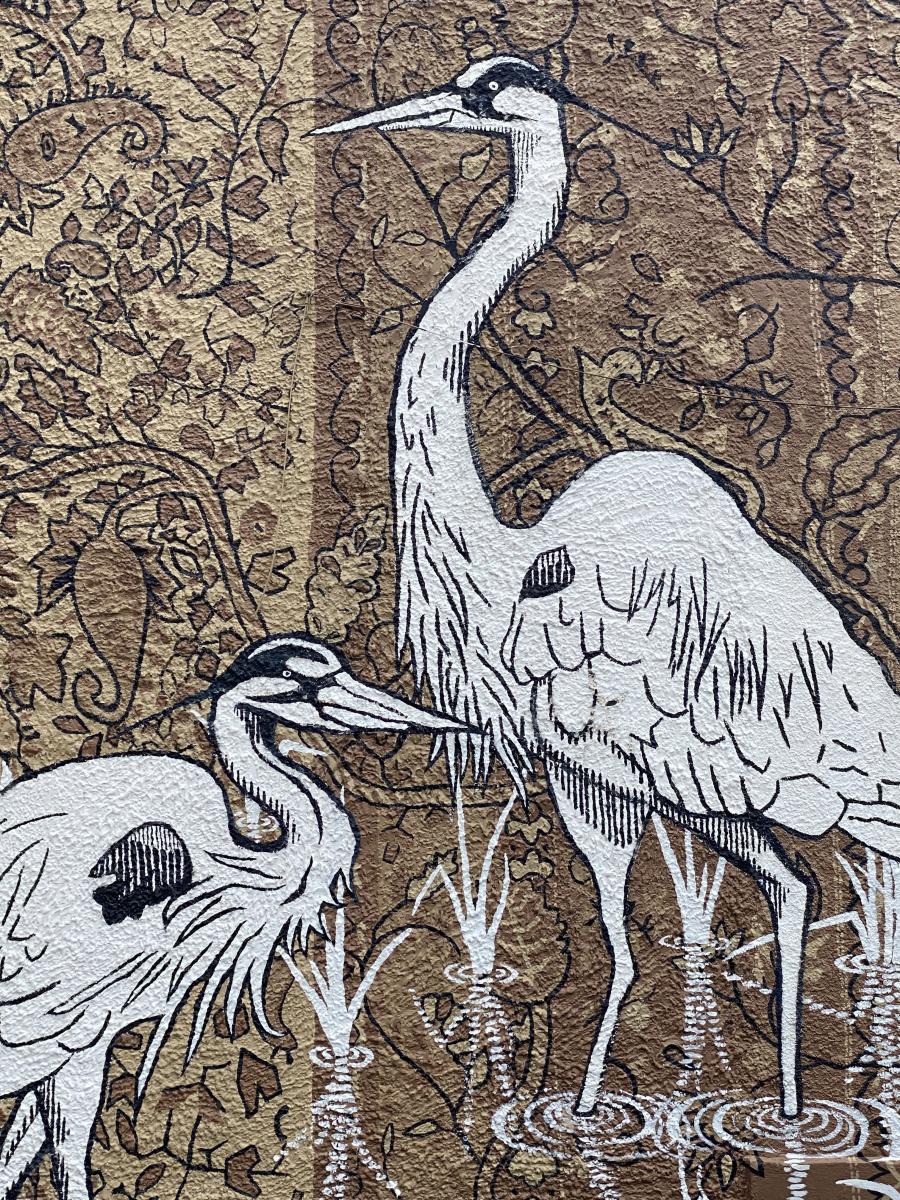 Bird Mural - The Beaumont Club - 590 Orleans St.
Officially called the Bourgeois Bayou" mural, this great Blue Heron is one of the many migratory birds in the Beaumont area. Located on two migratory flyways, over 250 species can be seen anytime of the year and over 400 during spring and fall migration.

Barbershop Mural - 665 Orleans St.
Beaumont native who now resides in LA, Henry Art Smith returned home to create art for his community. The self-taught fashion designer and muralist created the silhouettes of four African American boys said to depict the different hairstyles and personalities you'll find at a barbershop, along with black unity.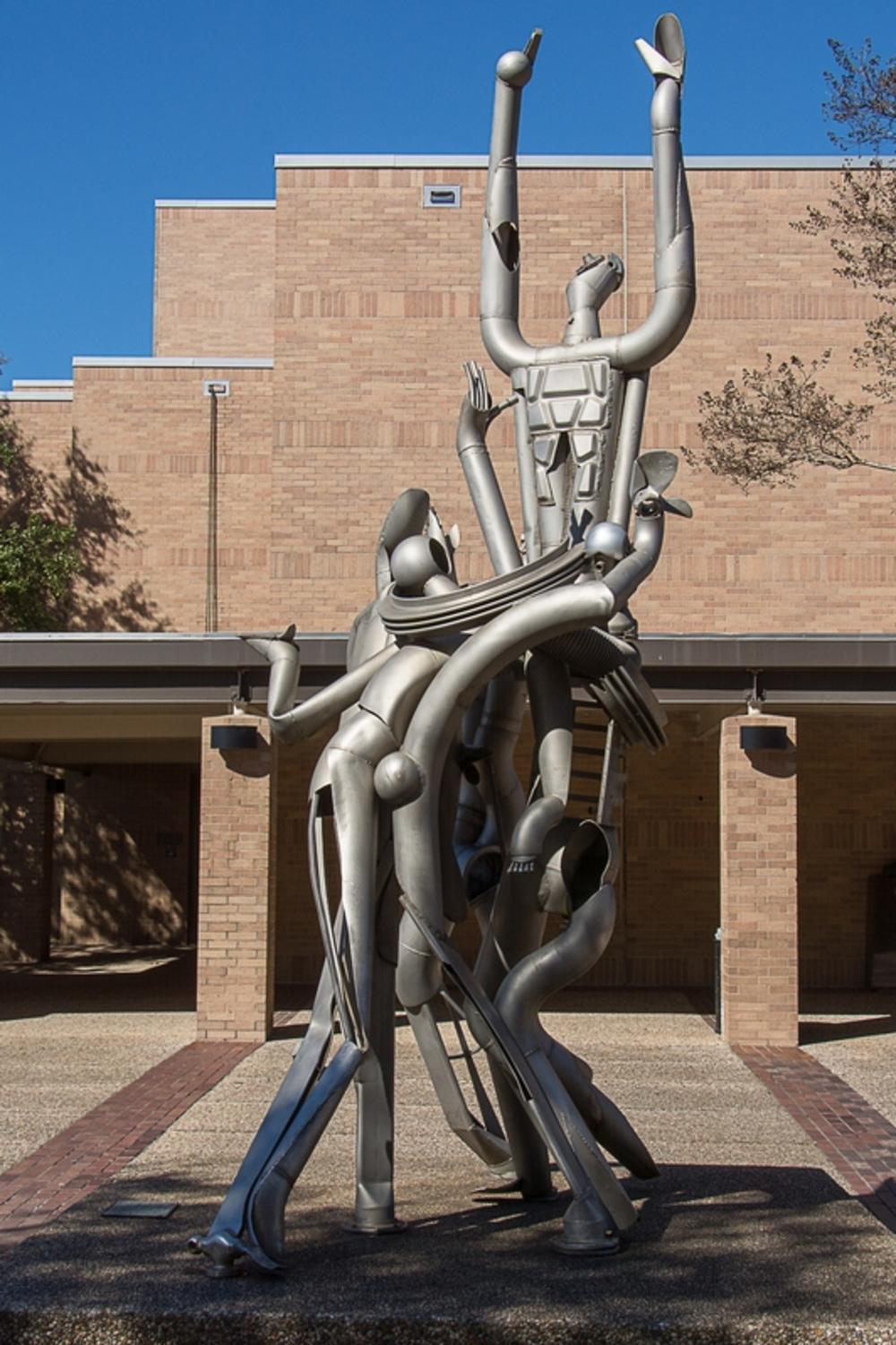 David Cargill Statue - City Hall - 801 Main St.
David Cargill is a Beaumont sculptor who works in all mediums, most known for his portraits and other figurative work in metal. He moved to Southeast Texas when he was six years old and has been a staple of the community ever since. After graduating from Rice University, he held his first two-man show in 1951 and currently teaches art at Lamar University.

Tyrrell Historical Library - 765 Pearl St.
The Romanesque-Gothic building that houses the Tyrrell Library was designed by Alonzo N. Dawson, a prominent Texas architect, as the First Baptist Church of Beaumont in 1903. When the church moved to larger quarters in 1923, Captain W.C. Tyrrell bought the building and donated it to the citizens of Beaumont to use to document the history of Beaumont, Southeast Texas, and the genealogy of community members.

Jefferson Theatre - 345 Fannin St.
Built in 1927 and restored in 2007, the Jefferson Theatre is one of the few remaining art deco movie houses in the country, named the Best Restoration Project in Texas. Designed by noted architect Emile Weil to house vaudeville shows and motion picture presentations, it has hosted some of the world's greatest motion pictures of all time, including "It's A Wonderful Life," whose 1947 premier had stars James Stewart and director Frank Capra in attendance. The theatre's most unique element is its massive original Robert Morton Organ (one of only a few left in the country) that consists of 778 pipes. Today, they host bi-monthly Classic Movie Nights (one of the best cheap dates in town) and other performances.

Rao's Bakery - 2596 Calder 
Painted by @thedaskone, this nostalgic postcard-themed mural puts Beaumont's best sights on full display, with each letter prominently highlighting one of our attractions from Cattail Marsh to the McFaddin-Ward House.

Cocomo Jo's - 2024 Calder 
"Beaumont Betty" by @feebee_n_jay is a retro and colorful take on every woman. There's even an easter egg hidden in there – see if you can find the Spindletop, an homage to the city's boomtown past.

Air Comfort - 625 N Main
Designed to normalize mental health issues, the Air Comfort team wanted to shatter the stigma of silent suffering and create an encouraging and inspiring message for people to have open conversations about mental health. Painted by @anatronen1971.

BAW Antiques - 1096 Calder
A Local Artist Collaborative Mural, each of the different makers was given a space for their own design and creations. Participants Included: Megan Cobb – "If the Mothers of Nations Could Meet There Would Be No More War" quote, Maurice Abelman and students – Pandora's box – hope amongst chaos, Terry Bussinger – art supplies, Peter Yeahbuddy Nguyen - girl,
Karen Wallace – local 409 door yarn bomb, Kimberley Brown – "I believe in Beaumont," Tom Veillon, and Lexia Knowles.

MAKE Creative Space - 2405 Calder
Both of these colorful artists set out to embody the spirit of the family-centric craft studio. A Houston resident, Caroline Truong, made her return to Beaumont after painting her very first mural in our city -- inside the Tokyo restaurant. Newcomer Fabian Rey brought his Latin roots to his project. Best known for his work with the Austin Soccer Club, his Puerto Rican heritage contributes to the whimsical character style of his designs.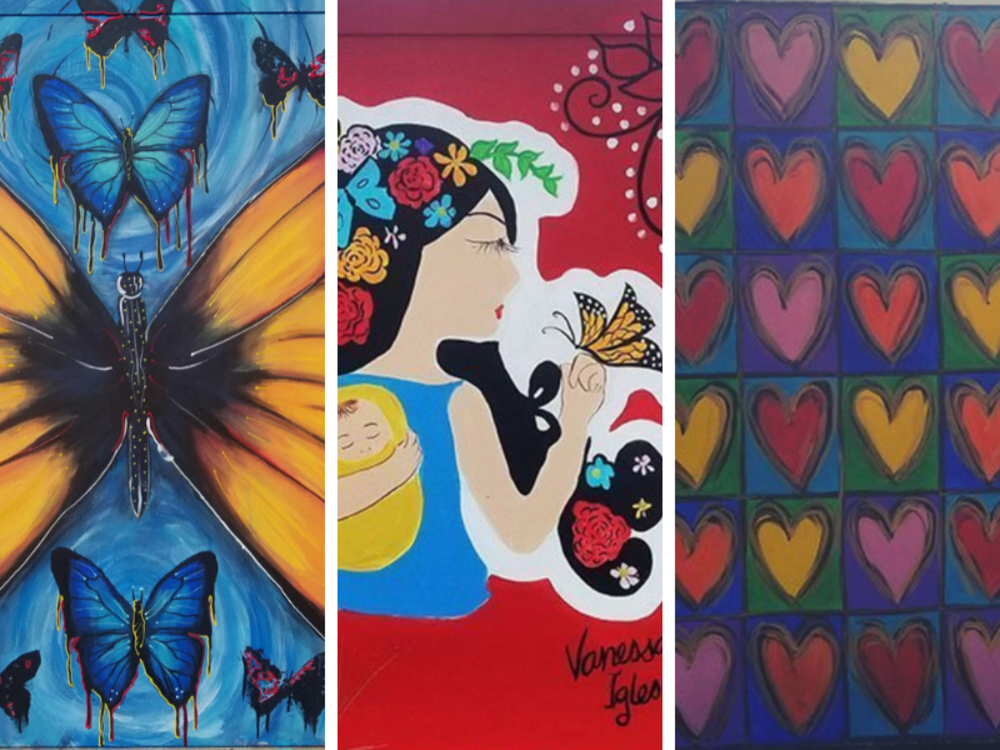 Art Boxes
More than seventy painted traffic boxes are scattered around Beaumont, many of them downtown. What began as a small project to bring public art to the city has grown into a community-wide initiative painted by a variety of local artists and amateur painters. 
Explore By Theme