From baseball tournaments to a class reunion or work convention, you may be coming to Beaumont for business or to have fun with the family. Either way, staying in Beaumont has never been more accommodating or luxurious. Two of the biggest hotels in the area have stepped up the hotel game and are ready for you to book a room!
The MCM Eleganté and Holiday Inn Plaza are the two top meeting hotels in Beaumont. Both hotels have recently added updates and are well suited for meetings, conventions, reunions and more.  
"Beaumont has a rich culture with great food," said Patti Owens with the Holiday Inn Plaza, "We pride ourselves on our great service."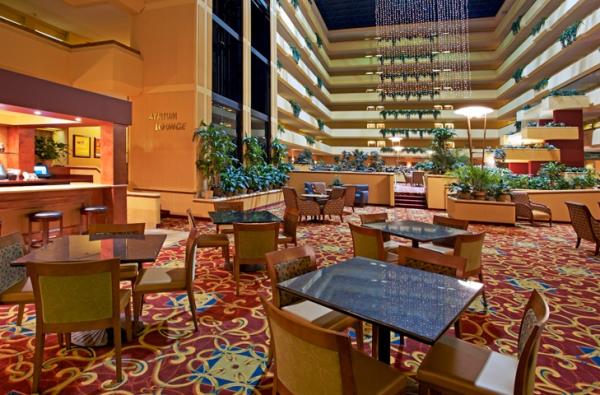 The Holiday Inn Plaza Hotel is located at Interstate 10 and Walden Road and probably best known for the open concept atrium style design with a beautiful three-tiered waterfall. The unique space catches your attention the minute you walk through the front doors. The conference center features more than 22,000 square feet of event space. The meeting and banquet space can hold groups from 10 - 1,200 in the ballroom alone. The newly updated fitness center has state of the art cardio equipment and the heated indoor swimming pool has a sundeck and hot tub! There are two restaurants on site including a cocktail lounge and Waterfall Atrium area serving light meals and drinks in the afternoons.
Other luxuries available at the Holiday Inn Plaza: Kid suites, private limousine service, storage space, same-day dry cleaning and complimentary airport transportation to and from the Jack Brooks Regional Airport (BPT).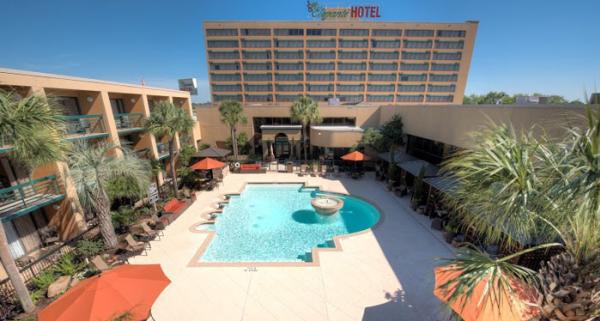 The MCM Eleganté Hotel and Conference Center located off Interstate 10 near Washington Blvd and is another well known venue that is open for any size meeting or special occasion. The outdoor pool was recently remodeled and features covered cabana areas with lush seating and eating areas. For conferences or meetings there is more than 20,000 square feet of banquet space in 18 different rooms. The Grand Ballroom features crystal chandeliers and 9,000 square feet of space. For a more extravagant option, the Fountainview Ballroom has luxury decorations throughout and is complete with its own fountain!
Other luxuries available at the MCM Eleganté: a dive-in theatre in the pool area, Starbucks Coffee Bar, a full size bar and tavern area, and a concierge level with executive service featuring cocktails and appetizers. You can also choose breakfast in bed or enjoy steak night with your friends. There is a luxury spa with a staff of professional massage therapists, estheticians and nail technicians with spa packages including romance, birthday celebrations or even office parties. You've got to try the famous chocolate dipped strawberries and ask about the Gator Country Room Package! (No, you won't be rooming with an alligator.)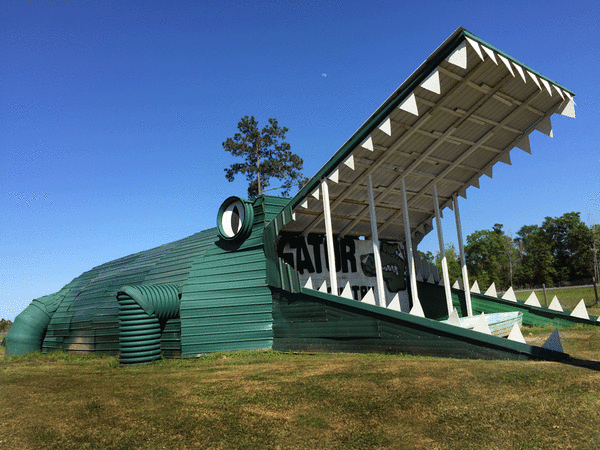 Other great reasons to choose Beaumont as your meeting headquarters spot: the central location, accessibility, less traffic, affordability and many quirky bucket-list moments to enjoy.
The Beaumont Convention and Visitors Bureau can also serve as your meeting planning headquarters. The CVB team is all about coming up with innovative ways to share the gift of hospitality with clients including team building experiences and a downtown dine-around through the museum district.