From wooded trails to open roads, the Beaumont area is one of the best places for cycling. If you are new to the sport or maybe taken some time off now is a great time to strap on your helmet and hop on a bike! Consider checking out one of the most popular sporting events in Southeast Texas, Spindletop Spin.
Event Details:
Spindletop Spin Annual Bike Ride
Saturday, June 4, 2016
Rides start at 7:00 a.m., 7:30 a.m. & 8:00 a.m.
The Event Centre
700 Crockett Street
Beaumont, Tx 77701
"The Spindletop Spin is a fun-filled family oriented event that promotes a healthy lifestyle while pedaling for several important causes that impact our community," said  Bonnie Dean, Executive Director for the Jefferson County Bar Association Foundation, "It's just pure fun! The energy created that day is infectious!"
"The Spin" is a family friendly bike ride that starts in the heart of downtown Beaumont and goes out to the Sour Lake area depending on the ride distance you choose to do. Family riders have a 13 mile option and other routes include 29, 52 or 106 miles.
The ride is fully supported with police, motorcycles and ride marshals along the routes.
"Rider safety is our number one goal," said Dean, "while on the route, families can make new friends, learn about bicycle safety and get some exercise. Once back, they can enjoy the beautiful Event Centre, have a nice lunch, cheer on returning riders or play at the nearby Beaumont Rotary Centennial Playground."
Rest stops will be fully stocked with fruit, drinks and snacks for the riders. There will also be lunch, ice cream, snow cones and live music at the Event Centre. Each year more and more people keep signing up for the race. So, why is this such a popular event for the community?
"Number one by far, rider safety and number two is the generosity and spirit of our volunteers!" said Dean. 
The race couldn't happen without the help of volunteers. It's a 100% volunteer run event.
"This year, we anticipate over 200 volunteers will facilitate the event," said Dean, "from the cheerleaders seeing riders off and welcoming them back, to the numerous themed rest stops along the routes, everyone certainly gets a good example of how friendly and supportive Southeast Texans are!"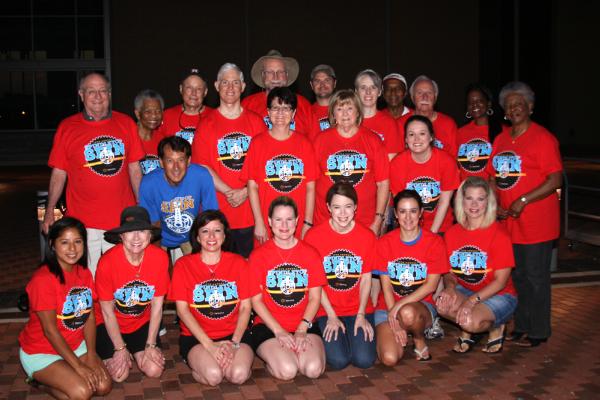 Proceeds from the ride benefit the charitable programs of the Jefferson County Bar Association Foundation. The Foundation is the dedicated to supporting several causes in the community including law related education programs for at-risk youth, Veteran legal assistance, Family legal help and scholarships. "The Spin" is truly an example of people working together for a common cause.
"They are all riding to benefit the citizens of Southeast Texas," said Dean, "this unity of cause is the true measure of success when, for one day, we hold one of the largest events highlighting our community at its best."
The Spindletop Spin is Saturday June 4, 2016 and has staggered starting times from 7:00 - 8:00 a.m. depending on the distance you are riding. All routes begin and end at The Event Centre, 700 Crockett Street, in downtown Beaumont. Approved helmets are required and the course closes at 4:00 pm. Cost is $25 - $40. 
For more information on registration, volunteering and hotels, click here.
Can't make it to The Spin? Plan your own biking adventure! Download Beaumont's Biking Trail Maps here to get started.