It's almost 2017! Let's celebrate! Whether you feel like ringing in the New Year with tuxedo gear and steaks, or in a more laid back way in a pair of comfy jeans and a good ole' bowl of black eyed peas, we've got you covered. Beaumont, Texas has plenty of options to help you make the start of 2017 the best ever!
American Legion NYE Party
Dorie Miller Post 817 / American Legion
3430 W. Cardinal Dr
Beaumont, TX 77705
9:00 pm - 2:00 am
Cost $12 - $15
Bring in the new year with live music, people, food and fun! The American Legion in Beaumont is planning a fun party for anyone in the community. Ticket price includes a complimentary buffet, free margaritas and a midnight champagne toast! Of course, fun party favors are included too! Tickets and tables are available ahead of time by calling (409) 338-9099.
Bar Local New Year's Eve Bash 
Bar Local 
6358 Phelan 
Beaumont, TX 77706 
Cost: Free 
Celebrate New Year's Eve like it's 1999. Formerly The Pacesetter, Bar Local has a nice laid back feel and it might remind you of the good ole days. There is an outdoor patio space and dance floor.
New Year's Eve Soiree
The Betty Greenberg Center for Performing Arts
4155 Laurel St 
Beaumont, TX 77707 
7:30 pm
Cost: $60 per person / $100 per couple
A New Year's Eve Red Carpet event at Beaumont Community Players with food, drinks, contests, auction, a champagne toast and a stellar broadway review by some of Beaumont Community Player's finest. Come spend and evening with BCP and ring in the New Year. Get ticket information here. 
Lodge Style Party
Elk's Lodge
11431 Highway 90 
Beaumont, TX 77713
7:00 pm 
Cost: $25
Ring in the New Year with old friends at one of the most laid back places in Beaumont - the Elk's Lodge on Highway 90. Anthony the DJ will play music and karaoke. Hors d'oeuvres and champagne along with black eye peas, cabbage and cornbread will be served. Call (409) 540-2332 for advanced reservations. 
NYE with Champagne Room
Jerry Nelson's Backyard Grill The Backyard
3871 Stagg Drive, Suite 202 
Beaumont, TX 77701
Doors: 7:00 pm. Show: 10:00 pm
Cost: $20 - $195
Jerry Nelson's Hill Country and Backyard Music Hall present Champagne Room, New Year's Eve Bash 21 & up only.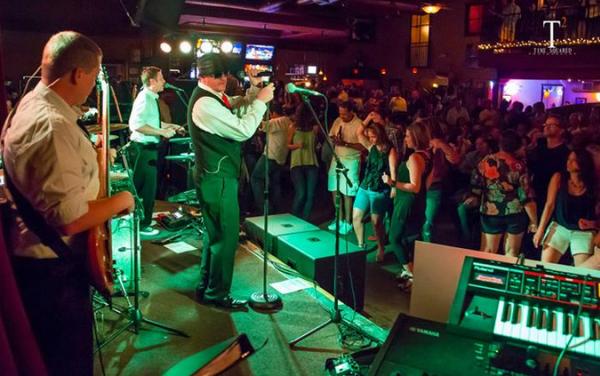 Prohibition Bash
The Logon Café
3805 Calder Ave
Beaumont, TX 77706
8:00 pm - 2:00 am
Cost: $10
The Logon Café will be wrapping the year up with its annual 1920's, prohibition style party. Indulge like the gangsters, bootleggers, flappers and movie stars of the 20's! Musical performances by the hip cats of the soul jazz band Ginger and the Rhythm Blues Kings & funky disco DJ group - Son of Hot Damn. Ticket prices includes light hors d'oeuvres and a Champagne toast at midnight!
New Year's Eve at Luke's 
Luke's Icehouse 
2325 Calder Ave 
Beaumont, TX 77702 
6:00 pm - 2:00 am
Cost: Free cover 
Have a laid back night at this chill patio bar. Zach Gonzalez will be playing from 9:00 p.m. until 1:00 a.m. at Luke's Icehouse in downtown Beaumont. Zach is a former guitarist for Tracy Byrd and has spent years working alongside Byrd, traveling across the country. You will hear songs by popular country classic artists along with R&B and even popular hits on the radio today. 
New Year's Eve Masquerade Party
Portus Bar
6632 Phelan Blvd
Beaumont, TX 77706
8:00 pm - 2:00 am
Cost: $10 - $50
Decorate yourself for the New Year! Portus is a new nightclub for Southeast Texas with great craft cocktails, beer, wine and a selection of over 50 bourbons and 25 scotches! On New Year's Eve you can enjoy live music, champagne toast at midnight and a great atmosphere. All reserved seating comes with champagne upon arrival and 25% off any champagne by the bottle. Bar Tables are $10 per person, Couches are $25 per couple/$12.50 per person,  Booths (seat 4-6) are $50. Email events@portus.bar for reservations. 
Jazz Resolutions
Holiday Inn Hotel & Suites - Beaumont Plaza
3950 I-10 South and Walden Road
Beaumont, TX 77705
7:30 pm
Cost: $200 - $300
This New Year's Eve event is glitz and glamour all the way with tuxedo's optional! Proceeds from the night go to the Professional Heath Care Foundation, a nonprofit organization helping hospice patients who need financial assistance. The NYE event includes a steak and seafood dinner, beignets, an open bar, silent auction and wonderful live music. Dean James and the Jazz Innovators will take the stage and you will even have a chance to perform live with the band. Call (409) 673-7556 for reservations. Take the stress out of driving home - you can also book a newly remodeled room at the Holiday Inn at a special rate by calling (409) 842-7556. 
Suga's Deep South New Year's Eve Celebration 
Suga's Deep Cuisine & Jazz Bar 
461 Bowie Street 
Beaumont, TX 77701
8:00 pm - 12:30 am 
Cost: $150 per couple 
Suga's Deep South Cuisine is a wonderful venue for a New Year's Eve celebration! Suga's is known for fine dining – and for bringing great live jazz, R&B, and soul to downtown Beaumont. Jeremy Benoit and The Band will be performing and a select menu will be served to guests. Suga's menu options are available here. Insider's Tip: There's also brunch at Suga's on New Year's Day featuring mimosas, pan perdu and live jazz.)
New Year's Eve at Honky Tonk
Honky Tonk Texas
2389 US Highway 96 N
Silsbee, TX 77656
6:00 pm - 1:00 am
Cost: Free
Honky Tonk in Silsbee is a popular night spot for all of Southeast Texas. There is line dancing, dance music and of course good ole country and western hits. For NYE, Bronco Junior will be live on stage and drink specials are available throughout the night.
You can check all the hot night spots around Beaumont here.
For the Family
NYE Bash & Giveaway
Cowboy Harley Davidson
1150 Interstate 10 S. Access Rd
Beaumont, TX 77707 - exit 851
12:00 pm - 3:00 pm
Cowboy Harley Davidson is having a NYE Bash during the day on December 31st! Start the year off right with a dice roll for a chance to win a 2016 Ultra & 2016 Sportster! There will be live music by Bryce Shaver, free champagne, beer, and dessert!
Pizza & Skating for New Year's
Manning's Texas on Wheels
5735 College St
Beaumont, TX 77707
7:00 pm - 1:00 am
Cost: $20
Celebrate at a Beaumont favorite at Manning's Texas on Wheels! The cover charge gets you a slice of pizza and a drink. There will be a balloon drop at midnight and other fun games. Tons of prizes will be given away including free skate passes, t-shirts, glow items, a pair of roller skates and more! 
New Year's Eve Bowling
Crossroads Bowling Center 
4370 Dowlen Road 
Beaumont, TX 77706 
8:30 am - 1:00 am 
How fun would it be to take the family bowling?! Ring in the New Year with a strike! Crossroads will be open until 1:00 am on New Year's day! Bowling rates are available online. Games are $4.95 per game or $22.95 per hour. Shoe rental is $3.00 per pair.
New Year's Day falls on a Sunday this year which also happens to be one of the most popular "brunch" days of the week in Beaumont! Check out the hottest brunch spots around here.